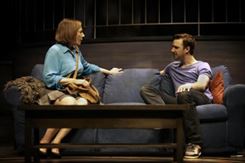 A friend once told Becky that if a woman wants new shoes, she really wants a new job. If she wants a new house, she's really looking for a new husband, and if she wants a new car, she wants a new life.
Meet Becky, the wife and mother and friend at the center of Alberta Theatre Projects' production Becky's New Car by Steven Dietz. Becky (Tracey Ferencz) is a devoted wife to Joe (Paul Cowling) and has her frustration with her 26 year old son Chris (Mathieu Bourassa) who is still living in their house, studying for his PHD in psychology. Becky invites you into her home, talking to the audience directly and making us a part of her life. She takes us to work, where she works as an administrative manager for a car dealership. She supports her colleague Steve (Kevin Rothery) who is still coping with the passing of his wife while she keeps the office afloat, putting in late hours.
Then Walter Flood (Sandy Wimsby) walks into her life, looking to buy his employees cars as presents. Due to a misunderstanding they continue to interact and one thing leads to another. Through Walter we meet Ginger (Valerie Planche) and Kensington (Caitlynne Medrek), Walter's daughter.
From the moment you meet Becky, you fall in love with her. She's just so genuine and warm. She's a little overwhelmed with her life and a little dissatisfied. Her life is illustrative of a line in the play: "there is chaos and holidays." She seems to have a good relationship with her husband Joe, but it's hard to tell. She wishes that Chris would do something with his life. Becky, for all her complex emotions is completely relatable.
This production has such strong performances. Everyone sinks into their characters and brings out the comedy in the script. A standout is Kevin Rothery's Steve. Especially when he shows the depths of his sorrow for losing his wife.
It's not the cast or any of the design elements that makes Becky's New Car completely unsatisfying in its ending. That rest completely on the shoulders of the playwright, Steven Dietz. His decision to take the narrative and story away from Becky in the end is hinted at throughout the play, in that Becky is constantly interrupted by the men around her but she also never steps up and makes them listen to her. She goes along with it. And that's what happens in the ending of this play, everything unravels and a man steps up to 'cover over' everything and she goes along with it. As if it wasn't really her story to tell to begin with, according to Dietz. And this makes the play deeply unsatisfying, even if it is a comedy.
Alberta Theatre Projects' Becky's New Car runs at Alberta Theatre Projects until April 25th. More information is available online.
Photo: Tracey Ferencz as Becky and Mathieu Bourassa as Chris.
Credit: Trudie Lee Photography
---