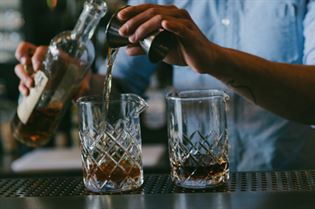 "My generation, we drink because it's good, because it feels better than unbuttoning your collar, because we deserve it. We drink because it's what we do." - Roger Sterling
The show that brought back the classic cocktail comes to an end this April. In recognition of Mad Men's eight year run, Hy's Steakhouse is offering a special menu for you to enjoy and to celebrate the era where it all began. As the final season debuts seven more episodes for your viewing pleasure, Hy's is happy to celebrate with you during the week.
Happy Hour runs from Monday to Friday, from 3-6pm. It's  a great spot to meet up with fellow Mad Men lovers on a Monday afternoon to recap Sunday's new episode and drink in style. Be sure to pull out your favourite 1960s-esque clothes for the affair - though the series has now entered the 1970s so feel free to don some groovy threads if you see fit.
Cocktails and mixology are becoming a big thing in Calgary - almost comparable to the buzz around craft beer. Each Hy's cocktail represents one of Mad Men's iconic characters from Don Draper to Peggy Olson.
Don Draper Old Fashioned: Canadian Club rye whiskey, Angostura bitters, Amarena cherry
Roger Sterling Gibson Martini: Russian Standard vodka, truffle onions or olives
Joan Hollaway Bloody Mary: Russian Standard vodka, tomato juice, roasted garlic
Betty Draper Gimlet: Russian Standard vodka, fresh pressed lime
Peggy Olson Manhattan: Makers Mark bourbon, Fee Brothers walnut bitters, vermouth
Bert Cooper Alexander: Dujardin brandy, nutmeg cream
All cocktails are $8 each - collect all six! Bottoms up!
---