It's extremely rare, but I love nothing more than meeting people who inspire me upon the first sentence that they utter - and that's exactly what happened when I first met Lori Andrews. I'd been following her photography and design work through her social media channels - @theoriginal10cent - and I already knew that I loved her work and her style. And then I was blown away by how amazing she is in real life - humble, funny and so much fun to talk to.
Her personal style, as reflected in her daily personal captures, is unique and interesting. It reflects her mood and personal inspirations, it's colourful and fun, and something I look forward to checking out each day - one of the glorious aspects of social media, if you ask me.
So make sure you follow Andrews and her wonderful work and style, as I'm sure it will delight and inspire you as much as it does me!
http://www.the10centdesigner.com/
How would you describe your personal style?
I gravitate towards a colourful, slightly sporty, chic and preppy style. I need my wardrobe to really move as I prefer to ride my bike or walk to work and appointments, yet, I prefer to wear heels and wedges. My style keeps changing as I am getting older and I think I'm having more fun with my wardrobe then ever before. Lately I've been thrilled with custom/on-trend pieces that a family member sews up for me "made to order".
What are some of your influences when it comes to fashion?
I've been an avid reader of American Vogue since I was a teenager and it's still my favourite go-to for upcoming trends. I'm also a bit catalogue and look/book obsessed, so I stalk all my favourite stores websites to get head-to-toe ideas.
What are some of your favourite stores and shopping destinations in Downtown Calgary?
I've been shopping at The Bay my entire life and still go there for most staples. H&M is super fun for inexpensive on trend pieces and I especially like their eco-line. BCBG generation; Banana Republic; The Gap; Holt Renfrew and Club Monaco in the Core.
What are some of your favourite Downtown YYC spots?
For after work drinks & dinner- Double Zero, because I really like Pizza.  I also love spending an evening at National on 8th. Coffee downtown at Deville; a staycation with my husband at Hotel Le Germaine; a visit to the observation deck of the Calgary tower (I do this every year!).
What are some of your favourite trends right now?
I'm obsessed with dressed up joggers in unexpected fabrics, gingham prints for spring, minimalist modern dresses and short pants and always, red! I Love this year's pantone colour (marsala) of the year so much I'm knitting a short sleeved sweater in it.
What fashion advice would you give to others?
Wear more colour! I occasionally make a game of counting the women and men I spot who aren't wearing black on my downtown visits. It's usually such a small percentage that those who have chosen a coloured jacket or shoe really stand out.  Which is a great way to look at life in general.  You will get noticed if you are a burst of colour in an otherwise grey world.
Why do you choose Calgary as your home? Do you plan on staying here, why/why not?
I've lived in Calgary my entire life! I love to travel, but I always want to come home again. Things I love about the city include- sunshine! and lots of it, proximity to the mountains (where I love to play and hike), great food, gorgeous people, amazing arts scene and a sense of excitement about the potential of our city.
Tell us more about your business. What are some of your future aspirations?
I describe myself as "An insanely happy Interior Designer and Photographer". I love all aspects of my creative work, from design, studio photography, stock photography, commercial work and marketing. I've recently retained my own studio (10 CENT STUDIO), and I'm planning to give classes on self portraiture, and fun iPhone classes.  I also have some Charity events that I'm working on that I think will be fun this spring and more collaboration with some of my favourite apparel makers and retailers.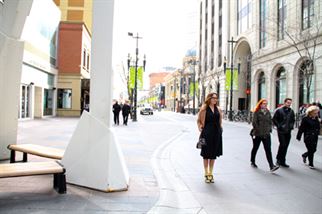 How does your work influence your personal style?
Oh! I do a lot of stock photography using myself as a model. This means I require unique outfits constantly in order to remain fresh. I tend to buy mostly cheap and cheerful items and mix those with higher end staples. Colour is important in photography, so as I said, I tend not to collect a lot of black clothing. It's made me more adventurous as well since my photographs often have a story telling aspect to them so I need to project a certain point of view through my clothing. Because I use myself as model in most stock imagery, I try hard to stay fit so I can wear any outfit or costume I need to without having to worry too much about camera angles. I always shoot stock when I am out in the mountains as well, so my "outdoor gear" has a bit of a fashion edge compared to what is normally considered practical.
---