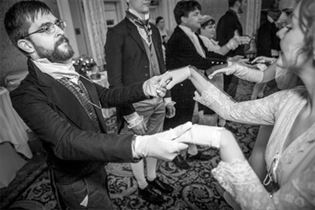 Melanie Kerr, of Regency Encounters, grew up with a dream, of finding a magical door into a fantastical world, or at the very least, onto the set of Pride and Prejudice. She is bringing that dream to life, in Calgary's downtown, May 16, 2022 at the Fairmont Palliser Hotel, with her Regency Springtime Ball.
The event is a total immersion into history. Guests come in period costume to dance the same English country dances that were popular at the time and play traditional card games using replica antique playing cards and gambling with historical coins. 200 years ago, people would know the dances when they came to a ball. They would have had dancing masters to teach them the latest dances, and they would show up ready to dance. Therefore, dance lessons will be offered on Sundays leading up to the main event, where guests can learn and practice the dances for the ball. No dance experience is required and all are welcome.
There is an optional supper at the start of the evening featuring authentic dishes from the period, and refreshments throughout the evening will also be based on historical recipes.
This will be the third time this event is being offered, but the first time in Calgary. The previous two were in Edmonton, and sold out very quickly, so get your tickets soon!
Most people do not already have a wardrobe full of Regency costumes, but can easily put something together by following these tutorial videos on YouTube. Guests can also rent a costume directly from the organizers from $25 or order something custom. Although costume is mandatory, it is also very flexible. Any effort at period dress will be accepted.
Website (tickets and details): http://www.RegencyEncounters.com
Facebook Event Page: https://www.facebook.com/events/1511994649073100/
YouTube: https://www.youtube.com/channel/UCIn1Mil6l-w4f3pPD9wm6WA/videos
Twitter: @FolliesPast
Email: [email protected]
This has been a guest blog post by the organizers of the Regency Springtime Ball happening May 16th, 2015 at the Fairmont Palliser Hotel. If you have an event that's happening in Downtown Calgary please contact [email protected]
---