Fernando Vargas and I met a few years ago, and it was his amazing personal style that first caught my attention. We haven't seen each other in much too long, and when I spotted him on the street recently, it was naturally his outfit that caught my attention once again.
Rocking out a 90s inspired ensemble, full of pattern and colour, is on par with his usual and fantastic variations of personal style. Over the years, Vargas' style has continued to grow and transform, although one thing remains to be true, always and forever - he has fun with whatever he puts on and doesn't let anything but his own mood dictate what he wears each day.
He's one I wish I could photograph and document each day, but seeing as that's not quite possible, I'll let the world of social media keep us up-to-date and informed on the fashionable stylings of Vargas - follow him here! twitter.com/fj_vargas
How would you describe your personal style? 
My answer could change daily. I would say it depends on the day and the occasion. Weekdays I'm meeting with clients so it's more professional like a sport jacket, trousers, fun socks and a bold shirts for colour. Weekends are more playful. I've been listening to a lot of 90's hip hop at the gym, hence this little number.
What are some of your influences when it comes to fashion? 
My style is influenced by music, mood, movies, different eras and movements. Some days I'm all prepped out and inspired by, Ralph Lauren, Brook Brothers, and Kiel James Patrick. The mid 50s style makes me feel jazzy — I absolutely loved the styling in The Talented Mr. Ripley film. If I am not working through the weekend you'll find me on the patio listening to latin music like Ibrahim Ferrer, while wearing a Panama hat, a guayabera and espadrilles. Sometimes for going out it's inspiration from Jimi Hendrix and I'll be in jewelry and a pair of pointed boots.
What are some of your favourite stores and shopping destinations in Downtown Calgary? 
I'm one of those who believe you can find something special anywhere. I don't have a favourite store or brand. I know what I want when I see it.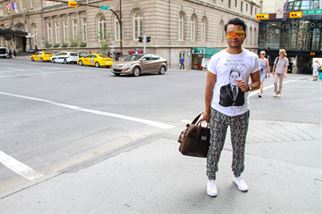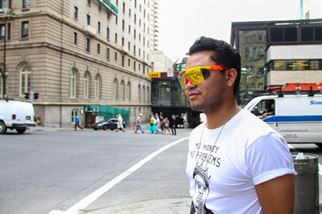 What are some of your favourite trends right now? 
I don't really follow trends. I try not to wear something just because it's on trend or not not wear something because it's off trend. I wear what feels right for the occasion. Lately I've been wearing a lot of florals, geometric patterns, bright colours, and short sleeve button ups.
What fashion advice would you give to others? 
Don't conform to one style or look, have fun with all of them individually and combined.
Tell us more about the projects and work that you're involved with?
Currently I'm working on several rebranding projects and marketing plans. My work at Hype Media varies from hospitality to healthcare, and one project in particular is for an association that represents different immigrant agencies across Alberta. As a Canadian citizen who immigrated to Canada, I am passionate about the initiatives this association is involved in.
What are some of your future aspirations?
Happiness, health and love.
How does your work influence your personal style? 
Well, Chanel said "Once you've dressed, and before you leave the house, look in the mirror and take at least one thing off." I practice this "less is more" philosophy in my professional work and in life but it doesn't come naturally because sometimes more is more, and that's so much more fun.
---