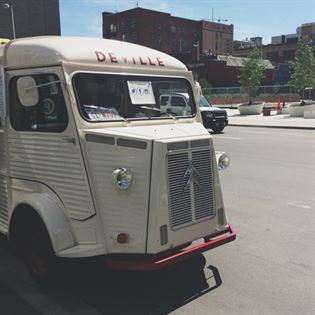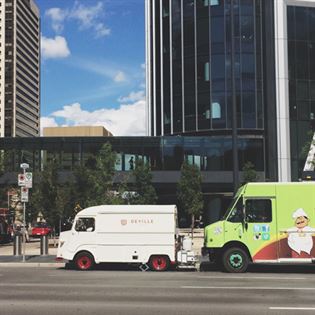 Craving a mid-morning latte but sick of the usual chain shop line-up? Make your way over to the brand-spanking-new Deville Latte Truck. This beautiful cream-coloured, caffeine-fueled dream-mobile has made it's way to the streets of Downtown Calgary. Literally, bringing coffee to the people, Deville restored and refinished this vintage 1970's truck to make it a fully functional coffee bar.
You'll find them on the streets of Downtown Calgary (they update their location on social media daily (@devillecoffee) and are also available for private events. Beyond their delectable coffee menu (Nutella latte, anyone?) they are currently offering a selection of their favourite baked goods including the insanely delicious Deville macarons. What goes better together than a steaming hot latte and bite-sized pastry?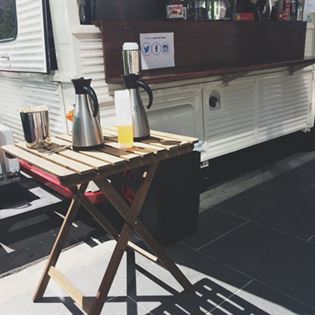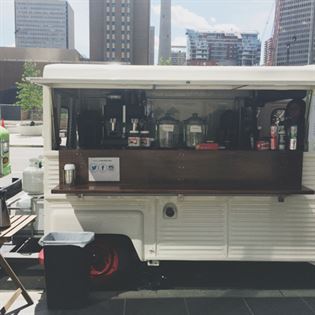 They also have plans to expand their pastry shelf to include more than cookies and bars, so keep an eye out for more delicious treats being added to their inventory. While we don't totally know how much longer until the food truck season ends for the year, Deville also has plans to add a salad and sandwich option though it may not happen until next year's food truck season.
If you are looking for something other than coffee for your afternoon pick-me-up, they do have bottled water and a selection of yummy cold drinks. However, if you have plans to sidle up to The Latte Truck you might as well indulge in some seriously good coffee. Deville has always used Intelligentsia beans so you know you are in great hands.
As I mentioned before, make sure you follow them on social media to find out where they will be parked each day. I was told, however, though that they most often try to get a spot right in front of The Bow Tower.
So, what are you waiting for - pop over and grab a coffee, or two.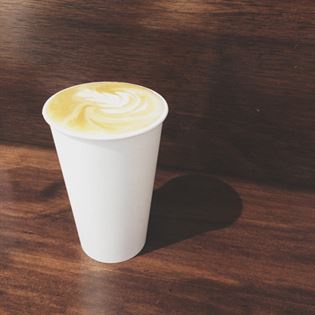 ---