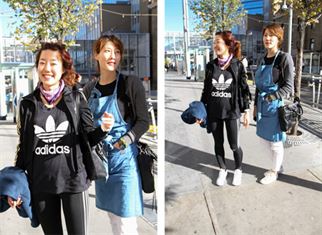 The leaves alone make Fall my favourite seasons - and so when you bring in cooler temperatures, a Fall wardrobe that includes layering and fun accessory additions such as boots and scarves, you have one happy Street Style Huntress.
As much as the season is my favourite for many reasons, I will also admit that it can be a tricky one. Cooler in the morning, and sometimes summer-like sunny and warm in the afternoons, what is one to wear? Tons of layers, that's what! I prefer to have too many layers and ditch them as I go through the day. I love incorporating a vest into my outfit, as well as a scarf or light weight sweater under my jacket that you can then easily remove as need be.
Street style during the transition from Summer to Fall is interesting and can be a little bit scattered - those that can't wait to get into their Fall gear, scattered with those not ready to give up on summer yet and are still going strong with their summer wear.
And so I have a little bit of everything this month - a bit of layering, denim jackets that are perfect for the season change, a crop top accompanied by a bulky and perfectly Fall sweater, and of course a little leopard print which to me is appropriate all of the time and in all seasons.
Because this is my favourite season, and because I sometimes enjoy celebrating further the lovely individuals that I've already photographed, I've also included a few goodies from Falls past. Enjoy the beautiful colours and amazing fashion opportunities while the weather remains - and remember to layer!
---