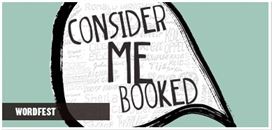 Wordfest 2015 - Oct 13 - 18, 2015
Calgary's festival for readers and book lovers! View our downtown events calendar for the many Wordfest events happening from October 13th to 18th at multiple downtown venues including the Royal Canadian Legion and Central Library.

Bugs Bunny at the Symphony - Oct 9 & 10, 2015
25th Anniversary! Bugs Bunny at the Symphony II celebrates the world's most beloved Looney Tunes and their legendary stars projected on the big screen – Bugs Bunny, Daffy Duck, Elmer Fudd, Pepe Le Pew, Tweety, Sylvester, Wile E. Coyote, and Road Runner – while their extraordinary original scores are played LIVE by your Calgary Philharmonic Orchestra.

[email protected] - Oct 7th, 2015
[email protected] presents free concerts every Wednesday from 12:00 - 1:00pm in the Cathedral Church (corner of 1st Street and 7 Ave SE). Guests are welcome to bring their lunch, as it's a casual concert series. This week: Driven to raise money to go to Disney Land as elementary school kids, the JansenSisters began singing publicly on the streets of Calgary, armed with their City of Calgary Busking license and accompanied by their Dad on guitar.
Wonders of Devonian Gardens - Wednesdays
Looking for some free, weekday family entertainment? Drop by Devonian Gardens on Wednesdays between 10 a.m. and 12 p.m. for The City of Calgary's Wonders of Devonian Gardens children's nature program. Enjoy an exciting morning of learning and exploration through nature-inspired games, crafts and stories for children 3 to 12 years old (must be accompanied by an adult).

Film Screening Series - Oct 08, 2021
Between September and November Calgary Cinematheque is presenting a selection of Robert Altman's films released between 1971 and 1977, a period in which his work exemplified the Maverick style for which he became known. The films inherent to this collection showcase Altman's unrelenting tendency to de- and then re-construct Hollywood genre, his unmistakable blending of scripted and improvised dialogue, and the trademark of a uniquely mobile camera.
-
That's it for this week. If you'd like to get these updates sent straight to your inbox, sign up for the Downtown Calgary Events Newsletter.
---