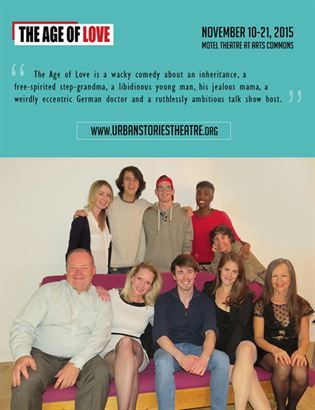 Ash and Olivia have what you call an unconventional relationship. She's a 77 year old woman who used to be married to Ash's grandfather and he is her 21 year old step-grandson. That's the premise of Urban Stories Theatre's The Age of Love, a new play by Maria Crooks.
The play starts out in Olivia's hotel room, where Ash (Ryan Gray) and Olivia (Diana Marie-Stolz) discuss their relationship, her pension, his inheritance from his father who passed away 6 years ago. It all comes down to Ash's mother Evelyn (Olga Primak) who is quite controlling and suspects Olivia of being a witch. It all comes to a head when the family goes on a tabloid talk show, believing that the psychologist Dr. Blezieau (Scottie Grinton) will be of assistance. He doesn't quite help, and Lex (Ellen Sullivan) the hostess, isn't much help either.
At it's heart, The Age of Love looks at unconventional relationships and asks you to examine them with an open mind. That's the aim of the script. The result is a long, absurd narrative with a few moments of true comedy. Primak's role is especially over the top and she plays it stiffly as if she herself is uncomfortable with the words coming out of her mouth. Her full on physical fight with Maire-Stolz is entertaining though. Gray spends most of his time trying to keep both women under wraps and it's exhausting to watch. Sullivan breathes some life into her role as the obnoxious hostess but everything seems forced. Crooks' script relies heavily on characters saying things under their breath that the other character happens to not hear clearly. It makes the narrative seem implausible.
The Age of Love has a good idea at the center of it, but the script needs a bit of mending to really draw the laughs and emotions it is looking for.
Urban Stories Theatre's production of The Age of Love runs until November 21st. More information is available online.
---