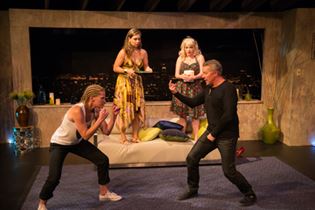 (Photo credit: Benjamin Laird Arts & Photo)
Neil Labute's The Money Shot is about two people who are desperate Hollywood actors, looking for their next big hit. They want to get back on top of their game and if they ruin their respective relationships, they don't really care. Desperate people treating people badly is what Labute is good at, and The Money Shot is what kicked off Ground Zero Theatre's season.
The play tells of Steve (a youthful Joel Cochrane) and his wife Missy (Brianna Johnston) who have come to Karen (Daniela Vlaskalic) and Bev's (Chantal Perron) house to have dinner and discuss a proposal that will push the success of their careers. But it involves pushing the boundaries for their respective partners.
Steve is racist, homophobic, shallow, and condescending just to name a few characteristics. He ensures that his 24 year old wife doesn't eat very much so that she maintains her figure. He doesn't think that Belgium is part of Europe and that he and Bev "agree to disagree" on that fact.  Missy for the most part allows him to treat her like an object and thinks that it's okay. Karen tries to dismiss all of this because she is so desperate to get along with her co-star even when he regularly upstages her partner Bev. She switches between persecuting Bev to playing the victim.
It's all a big dramatic collision. Especially since it culminates in Bev and Steve wrestling, on the living room floor.
You can't expect anything less from Labute. Horribly people behaving badly. But this entry seems to not hit the mark. The audience doesn't wind up connecting with anyone on stage. Everyone is incredibly shallow. Once the racism and homophobia is introduced it becomes old news. Labute is considered edgy, but Money Shot is a bag of the same old tricks. It's almost boring until Steve and Bev are all limbs and anger on the floor.
Cochrane pulls off Steve quite well and Johnston does a great job of being an airhead, as Missy. Perron is dynamic as she can be as the partner who thinks that this all is a little too much. Vlaskalic is the awkward Karen to a tee.
Ground Zero Theatre's production of The Money Shot is a strong production. JP Thibodeau's set design is so very classy to illustrate the rich and sophisticated apartment that Karen owns. All of the players do a good job in their roles. Ron Jenkins makes choices that are fit for the production. But Labute's play is empty. It is void of connection. If this is your first Labute play then it will be entertaining and shocking. But for Ground Zero, Labute has been done before and The Money Shot isn't edgy drama. It's been there, done that.
Ground Zero Theatre with the generous support of Hit & Myth Productions' The Money Shot runs until September 19th. More information is available online.
---