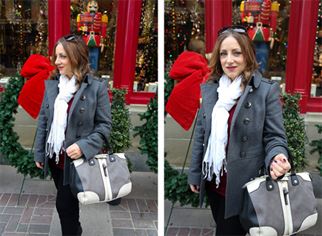 For the most part Margie Analise's style is classic and sleek, although she leaves room for trendy and fun pieces in her wardrobe. And this works just perfectly for her and her career, especially as she also brings forth her warm and uplifting personality to inspire women entrepreneurs. 
On the day that we captured Analise, she sported a beautiful, versatile and sleek grey coat with great button detailing, a white pashmina, black booties and black skinny pants - all brought together with a statement tote. She added some colour to her outfit with a burgundy top underneath the coat, and finished her look off with a fabulous lipstick shade.
How would you describe your personal style? 
Eclectic. I love clean lines and classic looks, but also mixing it up with trendy, unexpected pieces to make my look my own. No cookie cutter here!
What are some of your influences when it comes to fashion? 
Stana Katic,  Hellofashionblog.com, Lipstick Jungle (remember that show? Amazing fashion.) A few others would be Tom Ford, Michael Kors, Rebecca Minkoff, and Kate Spade.
What are some of your favourite stores and shopping destinations in Downtown Calgary? 
Holt Renfrew, Winners, Fluvog, Aritzia, Chapters to name a few 🙂
What are some of your favourite Downtown YYC spots? 
Papyrus (I love beautiful stationary and journals!), and Princes Island Park.
What are some of your favourite trends right now? 
I'm still trying to master how to wear it without looking like I'm drowning in it, but I love the big blanket scarves this season, paired with simple leggings, a beautiful coat, bag and boots.  I also love the look of an oversized chunky watch paired with stacked bracelets and a fabulous faux fur vest.
What fashion advice would you give to others? 
No matter what your shape or size, or how you feel about your body, find clothes that fit you well, express your personality and make you feel amazing - and wear them often!  Also, a note for entrepreneurs who spend a lot of time working at home - be careful not to fall into the sweatpants and ponytail everyday rut. Over time it's a habit that can erode how you feel about how you look, and that's a confidence zapper. Make an effort to dress to make yourself feel awesome and inspired!
Tell us more about the projects and work that you're involved with. 
I'm a busy girl!  Currently, I'm creating videos for my online program for entrepreneurs to build an authentic brand around doing what they love, and to leverage their knowledge and time with what i refer to as "exponential reach" - by creating products and programs to sell online.  It's all about working smarter, not harder.  I also coach entrepreneurs privately, as we all need help getting through the ups and downs of this journey - mindset, confidence, business strategy, marketing - we wear a lot of hats!
What are some of your future aspirations?  
My big dream is to create a live event for entrepreneurial women and take it all across Canada to connect, inspire, empower and grow female entrepreneurship in our awesome country.
How does your work influence your personal style? 
As an entrepreneur I help women create an authentic personal brand and build a business doing what they love, so I feel my work influences me to step up to the plate in a bigger way as an example, which is especially important in my personal brand.
Anything you'd like to add or tell us about? 
I believe a woman is her most attractive when she dressed in a way that expresses who she is and makes her feel awesome, when she's so comfortable in her own skin that she's able to forget herself and focus on the people around her, and when she's fulfilled and happy doing what she loves in life!
---