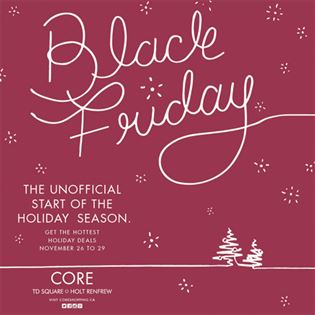 Already known as Downtown Calgary's largest shopping centre, the CORE has some interesting things planned for the holiday shopping season!
Starting Thursday, November 26th you can get a sneak peek of what's going on at The CORE including early Black Friday deals from 4pm - 8pm. Thursday night will also feature carolers, a shopping passport deal and a chance to check out the newly opened Rec Room.
Friday, November 27th will feature more entertainment as well as some tasty treats from The CORE's newest restaurant The Cactus Club! Find them handing out samples from 11am to 1pm next to the giant Christmas tree on the 2nd floor.
The Black Friday events continue Saturday, November 28th with macaron tastings from Monplaisir Delicacies and a holiday photo booth featuring A Christmas Carol street scene in partnership with Theater Calgary! Then stop by The CORE on Sunday, November 29th for complimentary hot shaves from Tommy Guns Original Barbershop in the Rec Room, as well as cookie tasting from Cookies by George by the Christmas Tree.
See the CORE Shopping Centre's website for full Black Friday weekend deals and promotions. The will also be updating that page with a list of stores that will be open early for further deals!
Here's more information on some of the ongoing events happening at the CORE:
Rec Room @ the CORE
Recently opened is the CORE's Rec Room. Located on the third level, this space is open to anyone looking to relax over the holidays. They have complimentary freshly popped popcorn, comfortable seating, free WIFI and TSN playing around the clock.
They also have pool tables, a Foosball, shuffle board and video games. And the best part is, it's all free. All that's required is your I.D. in exchange for the equipment.
There are also plenty of tables towards the back so you can feel free to bring you lunch down and have a seat with a few friends.
Wrapping Room (open Nov. 26 – 29 & Dec. 7 – 24)
Located just around the corner from Guest Services on level 3, is the CORE's wrapping room! Inside you'll find busy volunteers from the Making Changes Association ready to wrap all your gifts by donation. Shoppers can either drop off monetary donations, or new or gently used business attire for the Walk in Closet, a Making Changes Association program.
And your gifts will look incredible because all the wrapping paper has been generously supplied by Indigo Spirits.
The Making Changes Association works with underemployed and unemployed women to give them the skills and confidence they need to work in Corporate Calgary.
Choirs Dec. 1 – 24
Again this year the CORE will be hosting choirs of all ages and experience from all over Calgary, over the lunch hour (12 to 1pm). Stop by the Christmas tree on the second level to see them perform.
---