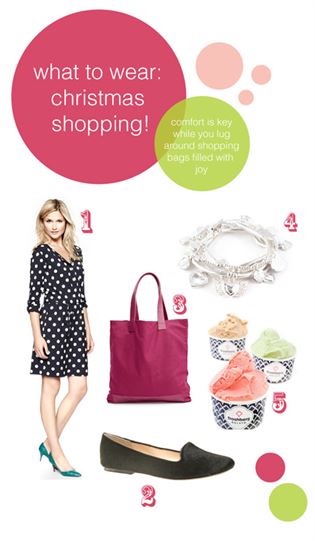 What to wear while holiday shopping downtown? I am sure half of you are thinking about throwing on a pair of sweats while the other half is pondering which stilettos to break in. Meanwhile, I've put together a quick and simple guide to dressing for your holiday shopping adventures.
The most important thing to remember is comfort at a time like this. You'll be hauling tons of bags all over the place with you (unless, of course, you are more the gift card type) so forget stilettos and big bulky coats. You'll want to feel unrestrained as you frolic from store to store. And while, I said comfort is the number one thing to remember - that doesn't mean I approve of sweatpants. While you are shopping, you'll still want to feel good about yourself as you are gifting your loved ones. There is nothing worse than catching a glimpse of your unkempt self to send you into a terrible mood which then affects your every purchase thereafter.
Comfort, functionality and cute factor - that's all you need to pull together a great little outfit for your outing. I found this super comfy jersey knit dress from the Gap and fell in love (1). The t-shirt material is so soft and the dots just give your outfit a little bit of extra zing. Pair it with some black tights and pull on these great Pony Hair Slippers from Nine West (2). Flats are totally essential for a day of shopping - and slip-ons are great for quickly trying on new pairs when you accidentally start shopping for yourself!
This berry-infused canvas tote (3) from Indigo is very affordable and also works great to stash any smaller gifts and bags you don't want to risk losing. While these Good Charma bracelets (4) might be a splurge compared to the rest of this outfit, they will certainly bring a smile to your face and also work their way into every outfit in your closet.
And lastly, no good deed goes unpunished so why not reward yourself (and your upcoming credit card bills) with a scoop of Froshberg Gelato (5) up in the Food Court? Perch yourself in the Devonian Gardens and savour the moment before you have to start wrapping each gift!
All items found at these fine retailers at The CORE.
01. Polkadot Henley Dress, The Gap, $64.95
02. Panto Pony Hair Slipper, Nine West, $120.00
03. Berry Library Tote, Indigo, $12.50-$24.50
04. Good Charma Tiny Hearts Set, Jack & Elliot, $395.00
05. Gelato, Froshberg Gelato
---