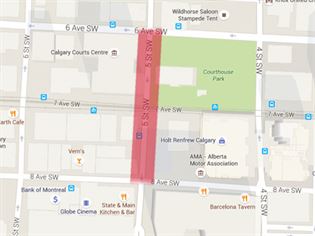 Please note: 5th street SW between 6th and 8th Avenue SW will be closed to traffic from 7am to 5pm on December 5th & 6th.
While LRT service will not be affected, detours will be in effect for bus routes, cars and bicycles traveling on 5th street SW. Cars traveling south and Bicycles traveling in both directions can use 7th street SW.
Learn more about Calgary Transit Bus Detours here.
See an ongoing list of Calgary Road Closures.
Follow Calgary Transit and YYC Transport on Twitter for the most recent and update information.
You can also call 311 for an update on detours and service changes.
To help you find parking during this time, use the Downtown Calgary parking tool.
---