When the $100 Film Festival was born in 1992, it showcased eight short films. The name sprung from the challenge to shoot a short film on four rolls of Super 8, which tallied to the cost of $100. In the years to follow, the name stayed, but the festival dropped their budgetary limit, shifting their focus from low budget to small-format.
Now in its 24th year, the $100FF is the longest running film festival in Calgary, and one of only a few festivals worldwide that exhibit exclusively on Super 8 and 16mm. In addition to celebrating its second year at Arts Commons' Engineered Air Theatre, this year's festival (February 25 – 27, 2016) features over 30 local and international short films, as well as:
Since 2003, the Film/Music Explosion! has opened each night of the $100FF. The FME! is an opportunity for local emerging filmmakers to create a Super 8 film based on a song. Each film is accompanied by a live performance of the song during the festival. This year features Dextress with a film by Simon Chan (co-presented by Sled Island), Basement Demons with a film by Berkley Brady (co-presented by Weird Canada), and SET with a film by Kyle Whitehead (co-presented by CJSW).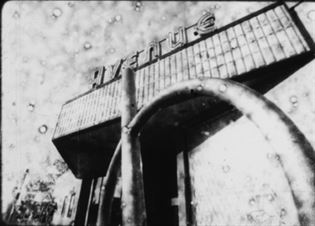 Visiting Artist: Lindsay McIntyre (Edmonton)
Specializing in analogue film work that emphasizes documentary, experimental and handmade techniques, Lindsay McIntyre's work has been shown at national and international festivals and venues. Her short films and performances circle themes of portraiture, place and form. Her current filmic obsessions involve handmade emulsion and all kinds of chemical manipulation of celluloid. One of Lindsay's films will be shown each night of the festival, in addition to a Handmade Emulsion workshop on February 27th. Registration is open for the workshop now.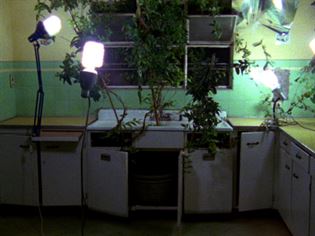 The $100FF has recently expanded outside of the cinema to include offsite programming. Partnering with galleries and community organizations, traditional notions of film exhibition are challenged:
Where We Stand – Feb 8 – March 31 @ Untitled Art Society +15 Window
Wayward Fronds – Feb 10 – March 5 @ Untitled Art Society Main Space
The $100FF will also be showing a special feature film presentation of PAUL SHARITS on February 26th at 9pm. Presented in partnership with the University of Calgary, Department of Communication, Media and Film, this documentary covers the fascinating life of prolific experimental filmmaker Paul Sharits. This is a free screening, included with the 7pm program admission.
Join fellow film lovers from February 25 – 27 to celebrate creative story telling on celluloid. Full schedule and ticket information can be found at 100dollarfilmfestival.org or 403 205 4747
Photos:
Where We Stand Dir. Lindsay McIntyre (2014)
Wayward Fronds Dir. Fern Silva (2014)
Paul Sharits Dir. François Miron (2015)
---