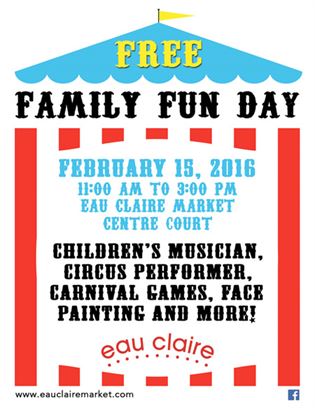 Bring your family downtown this February 15th for Family Day! There are some interesting family oriented events happening downtown this weekend, so why not come by. Best of all, the events and street parking is FREE! Holiday rates will be in effect on Monday in parking lots and parkades, which makes a downtown trip an affordable family adventure!
With warm weather in the forecast, why not stop by the XL103 Family Skate at Olympic Plaza? Bring your own skates or rent them onsite, and enjoy entertainment and free hot beverages! The event runs from Noon to 4pm on February 15th. More Info
Want to stay indoors? Check out Family Fun Day at Eau Claire Market. Located just steps from Prince's Island Park, Eau Claire Market is hosting this family event from 11am to 3pm. With a Circus theme, you can expect clowns, circus performer, carnival games, face painting and a children's musician. Be sure to venture out and enjoy attractions like the River Walk, Prince's Island Park, Peace Bridge and Sien Lok Park all within walking distance! More Info
Calgary's only indoor park is hosting We Are Family at Devonian Gardens on Monday from 11am to 3pm. Located inside the CORE Shopping Centre, the Devonian Gardens are already a hot spot for inner-city families, especially during winter. Featuring an indoor playground just steps away from a food court, it's got a lot of kid friendly features. The City of Calgary will be offering nature themed games and crafts, with educations programming that will teach children about the natural world around them! At Devonian Gardens you'll be just off Stephen Avenue, you can also take a stroll down the avenue towards Olympic Plaza for skating, or just enjoy the heritage buildings and public art! More Info
Can't make it our on Monday? The City Of Calgary is hosting a We Are Family event on Prince's Island Park on Sunday, February 14th from 11:30am to 2:30pm. Enjoy ice skating on the Prince's Island Park lagoon and fireside nature activities.
Need to warm up? The YYC Hot Chocolate Festival runs through February until the 28th. The festival spans the entire city, with downtown vendors including the Fairmont Palliser Hotel, Blenz Coffee, Rosso Coffee Roasters, and the Bean Stop in Eau Claire Market. Try them all and vote for your favourite!
Stopping by a bit later? Stephen Avenue with be bathed in light as a preview for a coming lighting festival in 2017. From Feb 12th to 15th, Stephen Avenue between 2nd Street SE and 3rd Street SW will feature a some interesting lighting components. We're hoping this piques people's interest and add some glow to the downtown core. More info on GLOW On Stephen Avenue.
For more Downtown Calgary Events, new sure to sign up for our Downtown Calgary Events Newsletter. It comes every week and is full of great downtown events.
Need help finding easy and affordable downtown parking? Check out http://Parking.DowntownCalgary.com to use our downtown parking tool.
---