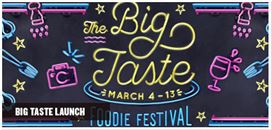 The Big Taste - March 4 - 13, 2016
It's BACK and it's BIGGER than ever!
Featuring more than 90 restaurants offering fixed price dining options as well as 15 culinary events to tantalize your taste buds and leave you begging for seconds! Want to kick off the event in style? There are still tickets available for the River Cafe 25 year celebration dinner, which takes place March 3rd, and features a sneak peek of the River Cafe's menu, as well as special guest Matt Kramer of Wine Spectator Magazine.

Happenings 3 - February 29, 2022
You're invited to an art party!!! Come partake and see what's happening during Happenings #3 tonight only at Arts Commons.
Celebrate the artistic collaboration of The Peel Project with Carleigh Baker, Aurora Darwin, Callan Fields, Katie Green, Daniel J Kirk, and Anthony Wallace, along with featured artists Sasha Foster, J.P. Marchant, Austin Taylorr, Kyle Whitehead, and Julya Hajnoczky.
Tour Arts Commons and enjoy a special evening of entertainment and art.

Free Financial Seminar - March 4, 2022
The recent layoffs in Calgary's economy have been influenced by global forces beyond our control and it can be a challenge for anyone to stay positive and focused on a finding a job when you're worried about making ends meet financially.
Join Calgary Economic Development for the second workshop in our Re-engage series – Personal Financial Health in an Economic Downturn; planning for reduced income. Ben Eggen of Credit Counseling Society and Juliette Klemenic of ATB will discuss how to create a course of action to deal with a period of career uncertainty with advice about debt, reducing expenses and budgeting.

Art of Time ensemble - March 3, 2022
2016 JUNO Host Committee presents: Sgt. Pepper's Lonely Hearts Club Band by Art of Time Ensemble with the Calgary Philharmonic Orchestra.
ANDREW BURASHKO, artistic director
STEVEN PAGE (former Barenaked Ladies), ANDY MAIZE (Skydiggers), CRAIG NORTHEY (Odds) and GLEN PHILLIPS (Toad the Wet Sprocket)
Come and meet the artists after the performance for an autograph signing.

RCM Pop-up Concerts Mar 2nd, 3rd, & 7th
The Royal Conservatory and Out Loud YYC are proud to present RCM Pop Ups – a concert series featuring some of Calgary's budding talent – in anticipation of the 45th Annual JUNO Awards.
March 2nd - Calgary City Hall
March 3rd - Devonian Garden
March 7th - Suncor Energy Building
---
Sign up for the Downtown Calgary Events Newsletter
---