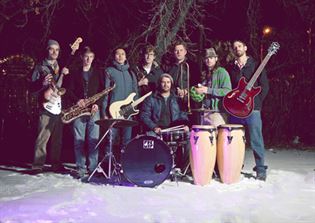 Keep your ears open if you're downtown on Thursday, February 11th as Freak Motif is bringing the Mardi Gras vibe to Calgary! With the support of OutLoudYYC, the Freaks are taking over the streets of downtown, parading with full horn-power and percussion juice.
Freak Motif was born in the summer of 2009 when a group of strangers took their instruments one Wednesday night and went on a parade along 17th Ave. Soon after that they started performing live, playing 100% improvised music influenced by funk, afrobeat and reggae rhythms.
Inspired by great Canadian bands such as Montreal's Kalmunity Vibe Collective and Vancouver's Five Alarm Funk, the band has developed into an 8-piece dance party, releasing 2 albums (2012's La Casa Blanca and 2014's Across the Nation) as well as a limited edition 7″ on Calgary label KEPT Records. They have played 100+ shows at festivals, house parties and venues across Canada. "Hot Plate", the first track from their upcoming album will be released online Feb 29, 2016.
"The roots of the band are in the spontaneity and chaos of the parade," says percussionist Farhan Hamojo, "and that's what we are excited to bring back!"
YYC Winter Parade is taking place this Thurs, Feb 11 and will feature a combination of improvised music and New Orleans classic tunes. The route starts and ends at Olympic Plaza, and will happen in two phases: 12-1pm and 5-6pm.
Freak Motif will be joined by the Delirium Street Party Brass Band, some surprise local jazz legends and all sorts of weirdos. Follow the noise, look for the sousaphone!
For more info on the band go to frkmtf.com
Parade details: https://www.facebook.com/events/167037847004060/
Local musicians should also take note, Freak Motif is hosting Calgary's only neo-soul/hiphop open jam the night of the parade. The 50th edition Groove Theory takes place at the Below Deck Tavern on Stephen Ave, starting 9pm, Feb 11.
Freak Motif's week will be rounded out with a performance at VERADEASI, hosted by Cirque de la Nuit at Flames Central, Sat. Feb 13.
---