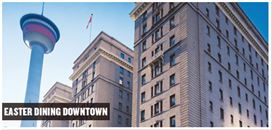 Easter Dining Downtown - April 5th, 2015
Come downtown to enjoy the holiday weekend with great food:
The River Café is offering a brunch and dinner menu, as well as the Fairmont Palliser Hotel is offering brunch and dinner buffets for Easter.

Documentary Screening - April 1st, 2015
SUNSHINE SUPERMAN is a heart-racing portrait of Carl Boenish, the father of the BASE jumping movement, whose early passion for skydiving led him to ever more spectacular. and dangerous feats of foot-launched human flight.

Hudson's Bay Giving Day - April 2nd, 2015
Join the Hudson's Bay downtown location on Thursday, April 2nd, 2015 from 8:00am to 9:00pm for Giving Day. Purchase a $5 ticket - the full cost of which will be DONATED to CHARITY - and SAVE throughout the store. Your ticket also entitles you to up to 15% off your purchase (some restrictions apply) and you can be entered to win a $5000 shopping spree.

Simon King comedy taping - April 3rd, 2015
SIMON KING is probably on his way to become an absolutely legendary comedian and you've probably never heard of him. A force of nature like nothing else in the stand up comedy world Simon delivers sharp, intelligent often dark but always hilarious material at a lightning pace. Being the kind of comic that comes along maybe once in a generation gets you noticed and he's been a guest at some of the most prestigious comedy festivals and venues in North America.
Check out TWO shows at Vern's 8pm and 10:30pm. 18+ event

POW! Parade of Wonders - April 17th, 2015
You can sign up to march in the POW! Parade of Wonders or you can come down to Stephen Avenue on Friday, April 17th at 10:45 to watch the whole thing go down!
-
Get the latest news about downtown Calgary events with the #IAMDOWNTOWN newsletter
You can also follow us on social media:
Downtown Calgary on Twitter
Downtown Calgary on Facebook
Downtown Calgary on Instagram
---