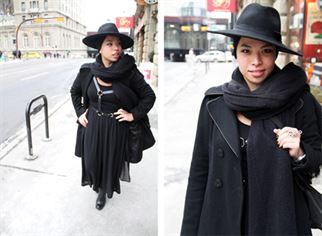 Looking out for style has grown from a hobby to my main mission, and it's amazing when I don't have to look very hard or when someone's look really captivates and inspires me instantly - enter Sarah K. Alonso, who's personal style did just that. In the few years that I've been bumping into her at events and parties, I'm always delighted to check out what Alonso is sporting - I've seen her in patterned pants, bright colours, interesting jewlery and accessories, and her favourite and mine, all in mysterious black.
But it's not just Alonso's personal style that draws me - it's also her creative efforts and ambition. She's one of the founding members of The Bad Girls Club YYC, she teaches yoga, and is now embarking on entrepreneurial dreams that I'm sure will bode fantastically in our ever expanding city.
So no matter if it's her business, her dancing endeavours, or her style, I personally can't wait to see what else Alonso has in store for YYC.
How would you describe your personal style?
If I were to describe my personal style it would be "form-fits-function". Currently, I teach yoga full time so it's taken me from my eclectic and elegant office clothes to a world of stretchy pants and built in sports bras (certainly nothing glamorous). I stick predominantly to black as I find black clothing alluring, edgy and interchangeable. When I'm not in yoga gear I stick to showcasing one or two unique accent pieces that make me happy. At the end of the day, I feel good in what I wear.
What are some of your influences when it comes to fashion?
I love classic 1950's Balenciaga gowns and dresses. Belenciaga has always done elegant right — beautiful lines and structured shapes mmm…Philip Treacy hats! Zana Bayne Bondage. For the mainstream, I also really enjoy Alexander Wangs ready to wear stuff.
What are some of your favourite stores and shopping destinations in Downtown Calgary?
In between teaching yoga classes downtown I enjoying poking around Holt Renfrew, TD Square and the Scotia Centre. I always start at Holt to find inspiration then checkout Purr, Winners and the TOP SHOP selection at Hudsons Bay Co.
What are some of your favourite Downtown YYC spots?
I enjoy Steven Avenue. I think that street has a lot of character and is a testament to Calgary's early years. Did you know that before Calgary was known as "Cowtown" we were known as "Sandstone City"? My most favourite place to eat downtown is Kimchi House in China town. The food is amazing. In addition, the man who owns this little kiosk is just darling. Just be warned — it's cash only.
What are some of your favourite trends right now?
Minimalism and deconstructionism - these movements aren't exactly new but certainly they have become more mainstream.
What fashion advice would you give to others?
Be honest with how you feel about what you're wearing. Don't try to fit into a trend or outfit if you don't feel yourself or an element of yourself.
Where were you born and raised?
I am born and raised in Calgary.
Why do you choose Calgary as your home? Do you plan on staying here, why/why not?
I've traveled my fair share and intend to continue to navigate the globe, Calgary though is my home. When you are born and raised a Calgarian I find, at least for myself, that you maintain very close friendships. You have your "spots" and there is always something new popping up around the corner that people want to try. I want to be part of Calgary's cultural development so I intend on staying here. Wether or not it happens is a different story.
What are some of your future aspirations?
Right now I'm working on a business model for a breaking (breakdance) practice and competition space with my boyfriend — The Practice Spot. There are no facilities that specialize and cater to this small subculture and I think it is about time.
The space will be available for personal or crew practice throughout the day. It is important to recognize that breaking is about innovation and creating an identity. So personal practice is important. In addition, the community of breakers are all friends, we want The Practice Spot to be a place where these dancers can hang out. We're looking at incorporating breaking classes and hold b-boy battles open to the public to watch, participate and enjoy. It's a huge venture, but I'm confident.
Please tell us more about your dancing experience. 
I have to say, I'm more of a freestyler. I kind-of fell into dance because many of my friends are amazing dancers. Dance has been an integral part of my life though. It has taught me how to be more comfortable in my body in addition to yoga. Dance in YYC is a community of really amazing, creative and hardworking friends. I'm really happy to be part of this community.
The Bad Girls Club YYC - For those who are yet to hear about this group, what is it and how did you get involved?
The Bad Girls Club YYC is an artist collective devoted to the education, experience and nourishment of Vogue culture here in YYC. Voguing is commonly associated with Madonna's song Vogue. It is a dance form that came out of the LGBT community in the Bronx in which contestants walk a runway in various categories for prizes. These competitions are known as Vogue Balls.
If you haven't heard already, The Bad Girls Club YYC runs an annual Vogue ball known as the Out of The Closet Vogue Ball. This event takes place every year in January.This year was our third year and we reached maximum capacity at Dicken's Pub. That's about 400+ people!
The ball isn't serious but the competition tends to be fierce. I love the categories as people in YYC have the opportunity to get creative and walk confidently down a runway. At the end of the day, the event is really about being accepting and incisive to all people in all walks of life.
I am one of the founders of the club along with, Tony Tran, Giang Trinh, Vernon Rubiano, Sonja Elarco, and Sabrina Naz. Collectively we felt that Calgary needed a ball. I am involved with PR for the group. If you would like more information feel free to check out our website at http://thebadgirlsclubyyc.com and like us on our Facebook Page - The Bad Girls Club YYC.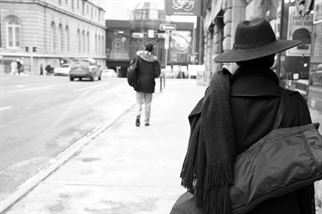 ---