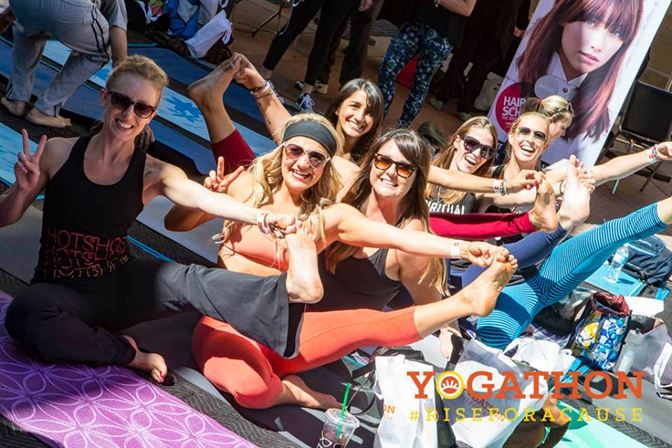 Saturday, August 20th 2016 is the day to connect with your inner yogi, whether you are a novice, experienced, or merely curious: all you need is a yoga mat and a benevolent spirit. Participants are challenged to execute 108 sun salutations (or as many as you can, really!) in a large gathering of fellow participants, and join a global movement for education and change.
In 2015 year we saw close to 500 Calgarians spread their mats, stretch their bodies, open their hearts and Salute the Sun right on Stephen Ave! The heart of Downtown Calgary! Amongst vendors, music, the hustle bustle of the city, we managed to find a few moments of inner peace.
Yogathon is for all ages and fitness levels. You can register as an individual or team. Whether your goal is to complete 10 or 108 Sun Salutations, it's easy to sign-up, collect pledges and help transform the lives of children around the world. Come, experience a global Yogathon, and contribute to a wonderful cause that spreads the message of yoga!!
On May 03, 2022 the Art of Living Foundation (AOLF) was presented with the prestigious Downtown Vitality Award for Public Health & Wellness for its outstanding contribution to raising the vitality of Calgary in recognition of Yogathon "Rise for a Cause", an annual event hosted in downtown Calgary since 2012, and attended by over 500 smiling Calgarians on August 22, 2015.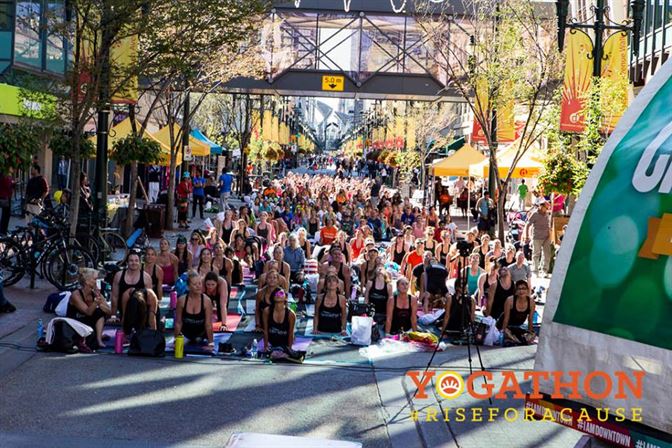 At a time when Calgarians face grave job losses and the challenges of weathering an uncertain and prolonged economic downturn, the AOLF presents Calgarians with a more positive and inspiring challenge by bringing the community together to Rise for a Cause through Yogathon.
What better way to unite and celebrate our spirit and our strength, and spread positivity around the world than coming out with yoga mats in hand, to perform the Sun Salutation challenge to raise awareness of child poverty, with funds being donated to the Care for Children (CFC) program, a program of the AOLF, a registered non-profit charitable, educational and humanitarian organization.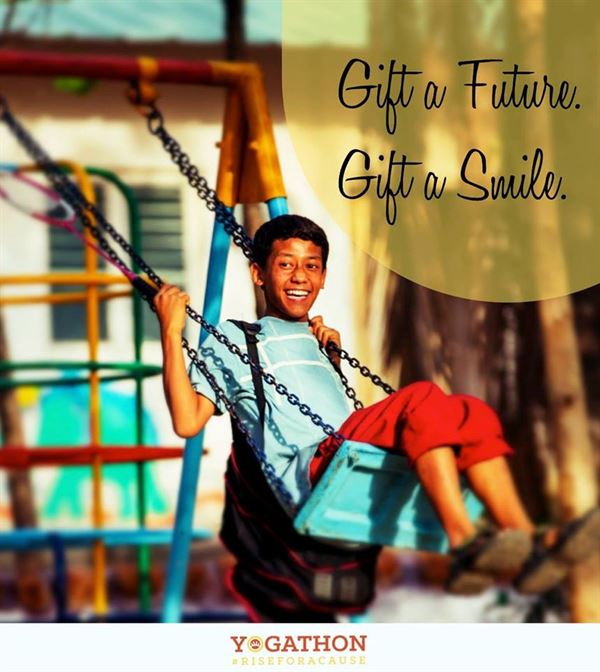 In service to the underprivileged, CFC has opened 425 schools across India, serving 51,061 children in rural areas, with more than 95% of all donations going directly to programs providing free meals, uniforms, healthcare, hygiene, transportation and education.  CFC believes that only through education can we empower impoverished communities and help break the cycle of poverty.
The AOLF is committed to bringing positive social change to Calgary through its coordination of projects and events such as Yogathon, to nurture and uplift human values and support humanitarian and development projects both globally and within the Calgary community.  Every August Calgarians open their hearts and their wallets to RISE FOR A CAUSE, to give back even during times of economic hardship, in celebration of their spirit of community and charity.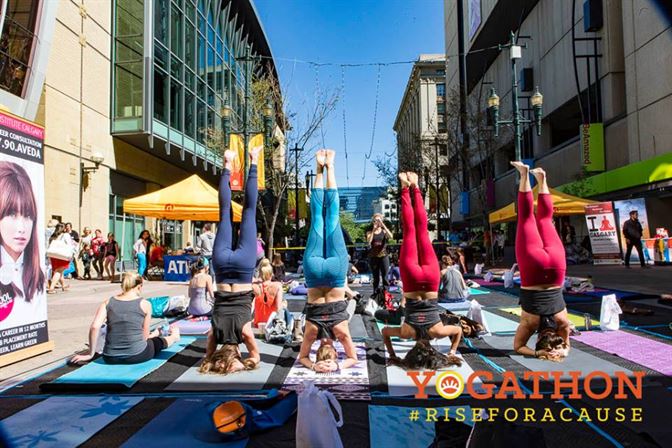 Yogathon is an opportunity for Calgarians to connect as a community not only for an inspiring cause, but also to nurture and celebrate our common values of generosity, love of peace and hope for the future, and just plain having fun in the sun!
As if this wasn't fabulous enough, this year our vendors will bring in the glamour into our event! Lole, Tribes of Lambs, Sweet Legs and Hemm will be part of our yoga market, and on a donation basis towards Care for Children you will be able to enjoy massages by Massage Heights, Satin Touch Med Spa's relaxing ayurveda treatments or step in for a quick manicure at the Beauty Bus. Calgary Stampeders will be there with Stampeder goodies for you.
Join 10 countries and 50 cities as we create awareness and raise funds for children's education.
Date: August 20th, 2016
Time: 10:00am – 12:30pm
Venue: 100 Stephen Ave SE Calgary
Registration Fee: $25
So what are you waiting for? Go to www.yogathon.org and register today!
---
Editor's note: This post was written by a representative of the Art of Living Foundation to promote the upcoming 2016 Yogathon on Stephen Avenue. If you would like to promote your Downtown business or event, please email [email protected]
To get events like the Yogathon email to you each week, sign up for the Downtown Calgary Events Newsletter, and follow us on Twitter and Instagram, and Like us on Facebook!
---