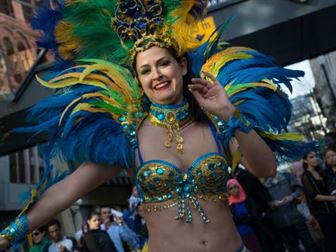 Alberta Culture Days began in 2008 as Alberta Arts Day, a one-day event to recognize the value of Alberta's arts and cultural communities. Since then, it has expanded into a vibrant, three-day, provincewide celebration that has helped inspire the creation of Culture Days - a pan-Canadian movement to raise the awareness, accessibility, participation and engagement of all Canadians in the arts and cultural life of their communities.
This year, Culture Days runs from September 30th - October 2nd, 2016. Below is an outline of the various activities occurring downtown.
Culture Days at Arts Commons - September 30th & October 1st, 11am - 2pm
Arts Commons invites you to come and celebrate Canada's rich culture presenting Baby Boomer Karaoke, guided tours of the newly renovated Max Bell Theatre, Life Drawing classes with costumes from the Theatre Calgary/ ATP costume collections, musical performances, a listening booth, or a self-guided tour of our Visual Media Arts Galleries. And that's just the beginning - you'll be able to find many more surprises at Arts Commons on Friday, September 30 and Saturday, October 1 of Culture Days!
2016 Block Park at Olympic Plaza - September 30th, 11am - 2pm
The Culture Days in Calgary 2016 Block Party kicks off a three-day celebration of Calgary's vibrant art and cultural life! The party will take place between 11am and 2pm on Friday, September 30. So bring your lunch and come down to Olympic Plaza for free, hands-on, interactive activities that invite the public to discover the world of artists, creators, heritage experts, architects, curators, designers and other creative people in our communities. Visit calgary.ca/CultureDays for more information.
Art on the Mall at Olympic Plaza - September 30th, 11am - 2pm
Glenbow programming hits the streets with this collaborative art project! Find their Museum Educators at the Culture Days Block Party and participate in creating a Calgary landscape painting inspired by our wonderful city. No experience necessary, all supplies provided!
Glenbow exists to build a bridge between history and present; to share fascinating stories and spark new conversations. History buffs, art lovers and pop culture fanatics can all find something inspiring in their galleries. Visitors of all ages are invited to get creative with their one-of-a-kind programming!
All participants will receive a 2 for 1 admission coupon to Glenbow Museum, and an entry to win a free membership!
Public Linocut Demonstration at Olympic Plaza - September 30th, 11am - 2pm
During the City of Calgary's Block Party, the public is invited to watch and participate as an artist demonstrates the linocut process.
First 2000 Days Network Night: The Beginning of Life at Calgary Central Public Library - September 30th, 6pm - 9pm
Join First 2000 Days Network and view The Beginning of Life, a new documentary supported by UNICEF. The film explores how the development of children around the world is impacted by their early environment.
Please register at http://events.calgarypubliclibrary.com/ or by calling 403.260.2620.
YYC Literary Sidewalks at Calgary Central Public Library, beginning September 30th 
Calgary's wet and cloudy weather will be transformed into a silver lining through a sidewalk art project. YYC Literary Sidewalks, uses biodegradable water-repellent spray to stencil literary quotes on sidewalks throughout the city.
On a sunny day, the letters remain invisible, but once rain (or snow) hits them, the words of Calgary authors suddenly reveal themselves.
The application of literary quotes will begin on Friday, September 30th at Central library and other locations.
Free Creative Kids Painting Class at Motion Gallery - October 2nd, 1pm - 2pm
For an hour on Sunday afternoon, Motion Gallery is offering a free kids painting class as a Culture Days special so parents can take a break and go check out what else is going on around Eau Claire and Prince's Island Park.
All materials are supplied in this class, which includes a 12″x9″ canvas, brushes and a large selection of acrylic paints. The class is aimed at kids aged 5 to 17, and they will be encouraged to draw and paint whatever they like with the dedicated instructions of Stephen Sauer and a helper.
Please note: this painting class is limited to 12 kids only so to guarantee a spot please register early by contacting [email protected]
Piano Concert for the Community by Honens at Western Canadian Place - September 30th, 1pm - 2pm
A showcase of our community's unique talents with a free concert featuring four amateur pianists who make their living in professions other than music performance.
The four pianists are competing in the ProAm—Honens Piano Competition for Amateurs—in November. It's the 'ProAm' because these amateurs play like pros.
Bring your lunch, relax and listen to beautiful classical piano. All free, family friendly and fun!
A list of other events occurring around the city for Culture Days can be found here.
---