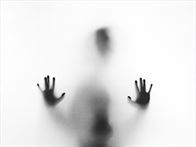 Whether you are looking for a spook-tacular time with friends, a haunting experience or just something to get you out of the house during the Halloween weekend, we have some ideas for you to check out downtown. Read on to see which events will suit your spirit this Halloween!
Gruesome groundworks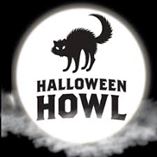 If indulging in candy isn't your thing, but wearing a costume is, then sign up for this year's Halloween Howl. Participate in a 3 km, 5 km or 10 km run. Prizes are given out for the best costumes — and for the fastest runners, if that's why you're running — and the après race activities are a hoot. Well-behaved, costumed pets are also allowed. Best of all, this race raises money for the Alberta Diabetes Foundation.
Location | Eau Claire Market
Cost | Prices vary
Time | 9:30 a.m.
More information at albertadiabetesfoundation.com.
In the tradition of English Pub Crawls, your guid will lead you to two of Calgary's most haunted bars and taverns At each location, you will have the opportunity to enjoy a beverage, sit back, and relax while you hear the intoxicating tales of the pubs haunted history.
Meet your tour guide at the base of the Calgary Tower on the West side near Ruth Chris' entrance. Tickets are $20 (drink NOT included).
Get your tickets in advance for the October 27 Downtown Haunted Pub Walk.

This race presented by the Calgary Marathon Society is the city's only Halloween race that happens at dusk. And it's both family-friendly and pet-friendly. Following the 1 kilometre, 5 kilometre or 10 kilometre run, there's a festival area with Halloween games and a photo booth. There are also prizes for the best costumes — and the best pet costume — so come in costume. This run supports the Alberta Animal Rescue Crew Society, a charity that raises funds to improve the lives of abandoned or abused animals.
Location | Eau Claire Plaza, 200 Barclay Parade SW
Cost |Entry from $15 to $35
Time | 4:45 p.m.
Details can be found at runcalgary.com.
Screens full of screams
The Ring and the Grudge face off at Otafest's Japanese horror movie marathon, just in time for Halloween! Hand-picked host of Japanese horror movies for your enjoyment: Ringu, Ju-on: The Grudge, and Sadako vs Kayako!
$5-minimum donation for entry. Adult beverages available to purchase from the Globe Cinema concessions with ID! Costumes are encouraged, but not mandatory.
Can't buy online and want to come? Come on down on October 27 anyway! They'll accept a $5-minimum donation at the door - first come first serve!
Attendees under 14 must be accompanied by an adult.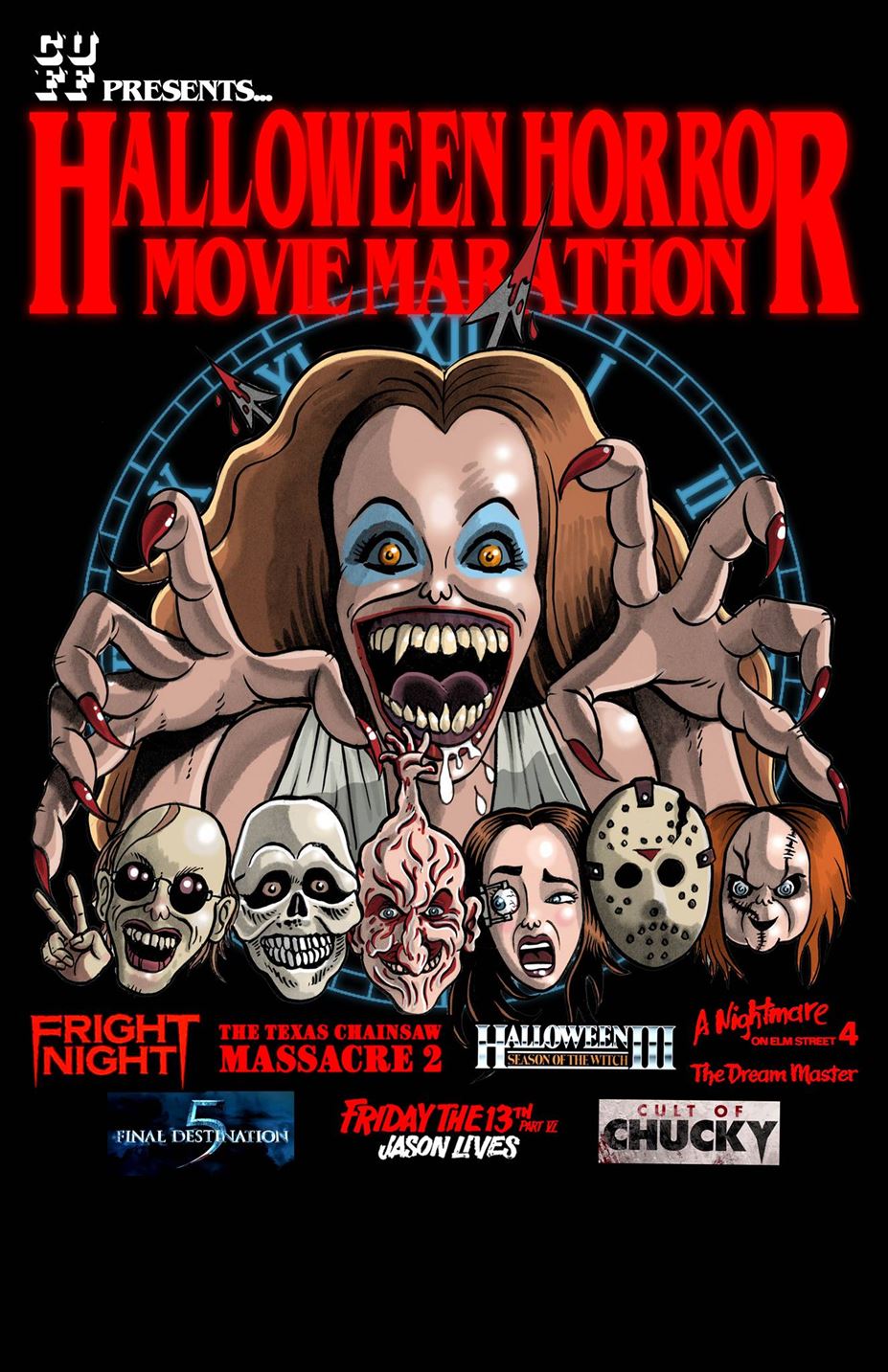 Join the Calgary Underground Film Festival for an all night Horror Movie Marathon! They're presenting 12 hours of movies (from 7pm October 28 to 7am the next morning), contests and surprises. This year our Halloween marathon is our favourite selections from horror franchises, in numeric order. Line-up includes FRIGHT NIGHT (1985), TEXAS CHAINSAW MASSACRE 2, HALLOWEEN 3: SEASON OF THE WITCH, A NIGHTMARE ON ELM STREET 4: THE DREAM MASTER, FINAL DESTINATION 5, JASON LIVES: FRIDAY THE 13TH PART VI, and CULT OF CHUCKY (the new, 7th film in CHILD'S PLAY series)
There will be a costume contest at midnight. Giveaways and surprises throughout the night.
Admission restricted to 18+. Alcohol service through first four movies.
Tickets are $20 Regular / $18 for CUFF Members.
They will accept cash or credit card for bar and merchandise. Cash only for Globe Concession.
Find your tickets at calgaryundergroundfilm.ticketfly.com.
Join us this Halloween for the premiere of a limited run of VICTOR CROWLEY, the long-awaited followup to the HATCHET series. Ten years after the events of the original movie, Victor Crowley is mistakenly resurrected and proceeds to kill once more.
Location| Globe Cinema, 617 8 Avenue SW
Date and Time | October 31st, 2017 @ 7:00 PM
Tickets |$10 Adult, $8 Student
Teaser | https://vimeo.com/235402097
Note: Victor Crowley will play as a limited run for a week following the premiere. For showtimes and more information visit www.globecinema.ca
Dance til you're dead. . . tired!

Boo! to all the HalloWeenies and HalloQueens, the teenage witches (18+), trickin' treats, final girls, and everyone who goes bump in the night. Hot Mess is back in the big house (the beautiful Palace Theatre) for Halloween Friday!
AND they're finally bringing out TRIXIE MATTEL! Trixie will perform two headlining sets, host a VIP meet & greet, and judge the Annual costume contest! Entrants are selected by secret HM agents throughout the night, and finalists walk the stage to win free admission to all HM events for the following year, a trophy, and bragging rights.
There will be a frightful PHOTO BOOTH in the works as well and, of course, a pumpin', packed DANCEFLOOR on The Palace's upgraded sound system. Calgary's own Ms. Carly York Jones will be kicking off the festivities with some femme fatale vibes to get your blood flowing!
Location | The Palace Theatre,219 8th Avenue SW
Date & Time | October 27, 2021 at 9pm  - 2am
Tickets | General Admission $26 at https://www.ticketfly.com/purchase/event/1573286/
More information at https://www.facebook.com/events/765873633621074/.
Saturday, October 28 at Sub Rosa, celebrate Halloween with Sub Rosa's second annual Secret Garden event! An exclusive underground haven, Sub Rosa located under the red neon symbol at 200 8 Avenue SW, will be offering patrons a coveted escape from the ordinary from 9 p.m. – late. Featuring dramatic décor and Perrier-Jouët, the Secret Garden event will also be offering party goers Halloween themed Sub Rosa curated cocktails. Guest list access and table reservations can be made by contacting [email protected] or (403) 770-2315.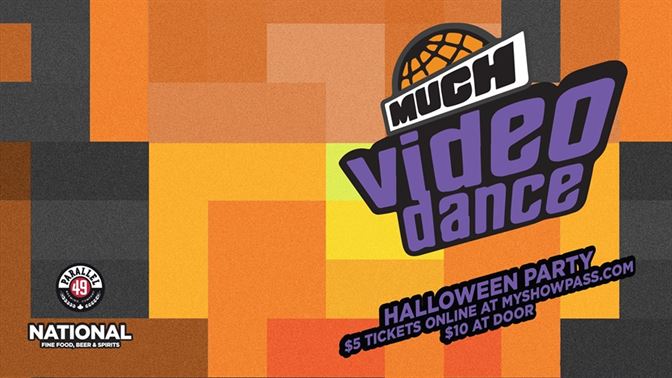 You asked for it, so we're bringing back the Much Music Video Dance Party. We are throwin' it back this Halloween weekend! Enjoy all of your favorite 90's music vids on a HUGE 45'x15′ screen, just like you did in high school with beer. So get your bucket hats and sparkle hair spray ready, because we are going to party like it is 1999 with our OFFICIAL Much Music Video Dance Party!
Saturday October 28, 2021 @ 9:00 PM
Doors Open @
6:00 pm
- Starts @
9:00 pm
- Ends @
2:00 am
National on 8th - Calgary
Must be at least 18 years of age to attend. Tickets are $5 and available at myshowpass.com.
Expect the unexpected at BIZARRE V featuring Mat the Alien…
BassBus & Space Gnomes are joining forces once again to bring you our 5th installment of Bizarre at The Legion #1!
Our murder of minions will be working tirelessly to bring you a Halloween experience full of unusual elements. With three floors of horrors, roaming freaks and faeries, and DJ sets to slay, you can count on a wicked good time! Costume prizes, dancing girls and our infamous Freak Show stage are just some of the things you will encounter at Bizarre. Plan your night to arrive early for expedited entry and maximum amusement and come celebrate the darkest of holidays with SpaceBus.
You'd be Ghoulish to miss this party, it's gonna be Spooktacular!
Location | Legion #1, 116 7th Ave SE
Time | Doors @ 8PM.
18+ event, ID is required.
Tickets available online here.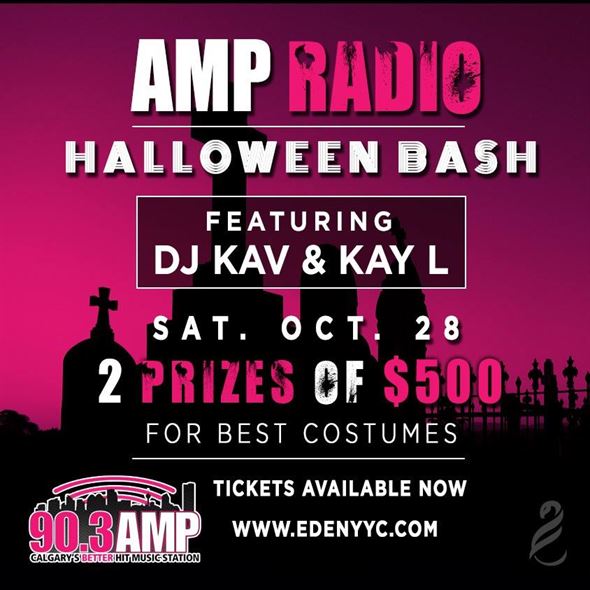 It's time for another huge Halloween Party, this time at Eden Nightclub where DJ Kav and Kay L will be playing all night long!
There will be two cash prizes of $500 for best costumes. The first 100 tickets are only $9.03, and once those are gone tickets go up to $19.03, so act fast!
Location | Eden Nightclub, 111 7 Ave SW
Time | 9pm - 2am
Find your tickets for purchase here.
"Boo" spoken here
Join us Monday, Oct. 30 for our Halloween Slam & Open Mic!
Mark your calendars in blood and gather your sequins and glitter… That's right, the costume rule is waived for the night! The sign up sheet for both the open mic and the slam will be released at 7:00PM, and the show will start at 7:30PM. Admission is $10 cash at door, on a sliding scale.
Slam Rules
-Bring 3 poems, each 3 minutes or less.
-No props, musical instruments, animal acts or nudity.
-You do NOT have to have your poems memorized.
Questions? Email us at - [email protected].com
Did we miss something? Let us know by Tweeting us at @downtowncalgary or emailing us at [email protected].
---