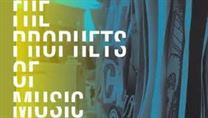 This Saturday, April 29, 2022,  The Prophets of Music are paying homage to their first-ever participants in the Emerging Artist program with an Artist Showcase event. The event will take place at The Palace Theatre (formerly Flames Central) and will begin at 8 p.m., with performances from all three participants, including Brett McCrady, High Love (formerly Rend) and The Ashley Hundred.
These artists were chosen in 2016 from over 50 applicants and have been working tirelessly over the past six months creating the music that will be showcased during this event. The program offered by The Prophets of Music has allowed these artists to develop lasting relationships with mentors and full production teams in order to hone their sound as musicians and record five new original songs with OCL Studios, one of Canada's top recording facilities.
The three members of the Emerging Artist program include both solo and group musicians and celebrate a range of sound which showcases the incredible talent present in Canadian music. During the Artist Showcase event, each participant will perform selections of their brand new music, offering a wide breadth of sound – something for everyone! It will also allow you to come and support your local musicians and learn more about getting involved in the community.
This slideshow requires JavaScript.
About The Prophets of Music
The Prophets of Music Society is an innovative, not-for-profit organization dedicated to supporting emerging artists in the creation of exceptional music. The organization was started in honour of the memories of  Josh Hunter and Zackariah Rathwell who died in the Brentwood tragedy. Volunteers who have a passion for original music drive the organization, and recognize the role a broader collaborative community can play in supporting young musicians "on the cusp."e 2017-18 Season for Alberta Theatre Projects
Concert Details
Date: Saturday April 29, 2022
Time: Doors open at 8 PM and music starts at 9 PM - Ends at 2 AM
Location: The Palace Theatre - 219 8 Ave SW
Tickets are available in advance for $15 and at the door for $20.
For more information about the organization or how to get involved in supporting emerging artists visit www.prophetsofmusic.org
---