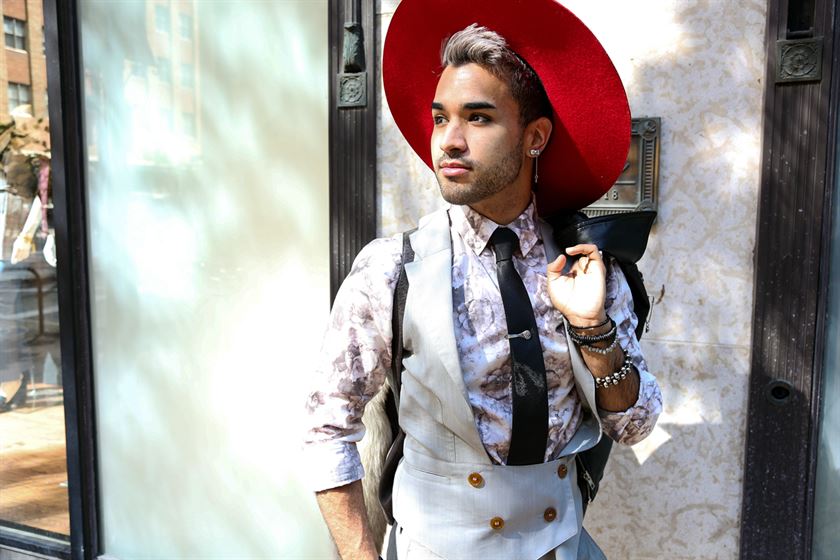 He's super stylish, sweet, photogenic, uber talented and down-to-earth. So in total, the perfect Street Style Huntress subject (and new friend!).
Harold Vasques is a talented young man who isn't afraid to speak to the world through his personal style - and I absolutely love and celebrate that! And my only wish is that more people take a note from him and start living life with true and authentic personal style - basically, wear sh*t you love and don't apologize for any of it! Am I right?!
I personally can't wait to see how his style and work will continue to evolve - watch out YYC! Or more appropriately, watch out WORLD!
How would you describe your personal style? 
I like to think that I mix the naughty with the nice, the masculine with the feminine and the luxurious with the cheap. I guess you could call it disheveled elegance? I don't like dressing under one specific genre or subculture;  instead understanding what makes those styles great and subverting them to create new iterations of the same feeling.
What are some of your influences when it comes to fashion? 
I think the two greatest influences to my style have been my family and Dame Vivienne Westwood.
I grew up mostly with my older sister and mother, both of whom are very proud and beautiful Latin women. I mention this because from where I come from, it doesn't matter if you have two dollars to your name or a million. Everyday you dress yourself to be proud of your appearance. This is something they embody very well and instilled in me from the very beginning.
I would say Vivienne Westwood for her unapologetic nature and punk essence. Her tendency to look at rules and standards and mock them, was (at least in my eye) the true beginning of street style. It was the beginning of what we see now as the surge in individualism.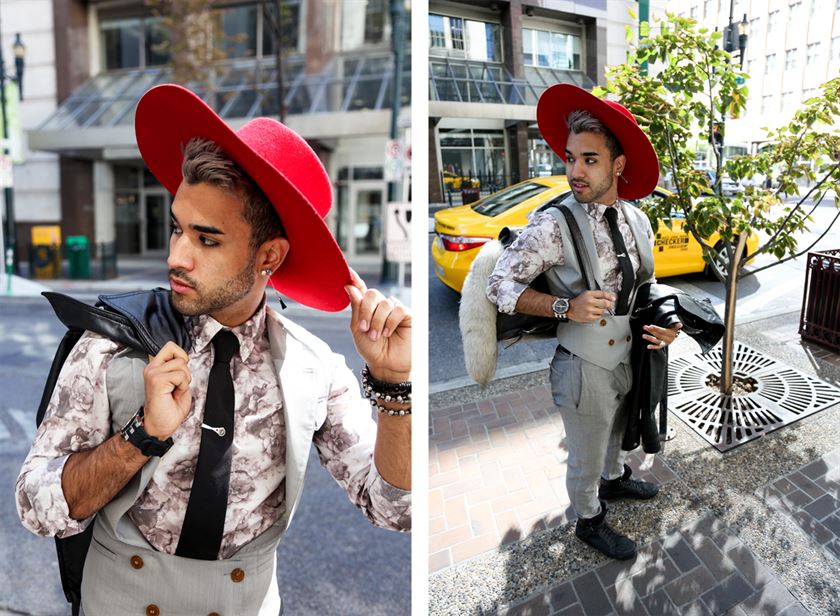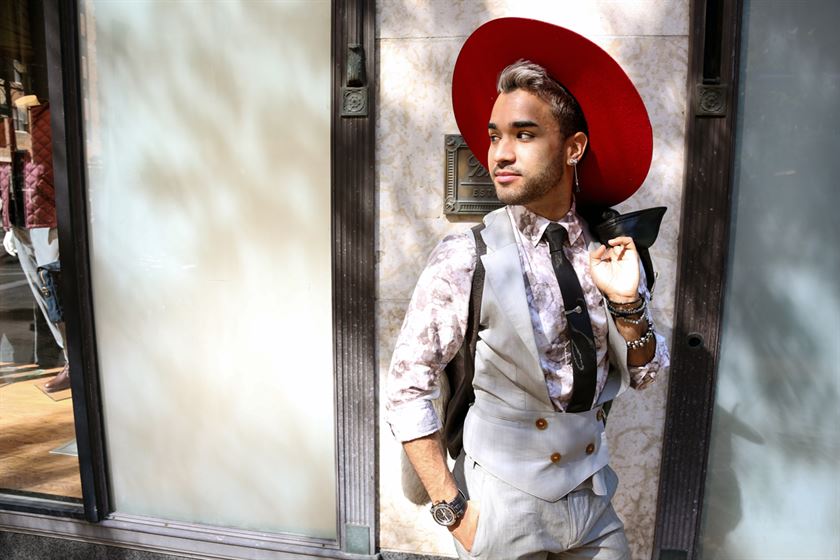 What are some of your favourite stores and shopping destinations in Downtown Calgary? 
I would say John Fluevog for the most amazing shoes you have ever seen, or The Hudson' Bay because I know I can always find a gem there. Support Canadian! Other than that I make my own clothing.
What are some of your favourite Downtown YYC spots? 
I would say Café Blanca for its homely inner décor and sitting areas, and what's really cool about this coffee shop is that they always have so many community events going on. Whenever I just need a cool space to relax, think or sketch I go to the winter gardens. Although they are only a public space and are only open during business hours; the giant greenery natural lighting and high vaulted ceilings make it great for self-reflection time.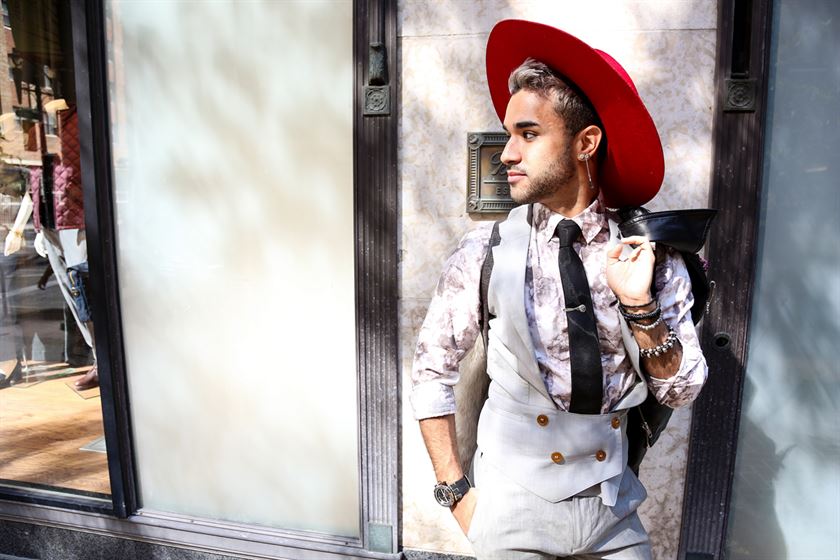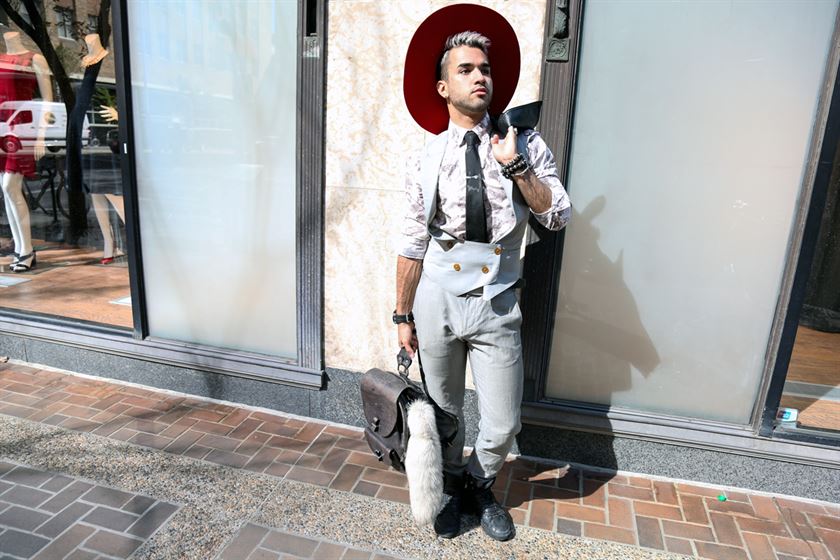 What are some of your favourite trends right now?
To be honest I don't really adhere to trends when dressing myself. I find trends to be more like pointers for the uninitiated and those who haven't quite found their niches yet.
That being said I have been noticing that both on the runway and on the streets men are being lead to take more risks with their wardrobe. Especially when it comes to showing skin; such as crop tops, low Vs on otherwise normal shirts, wearing dress shirts half unbuttoned or even cropped pants to show your kicks/socks.
What fashion advice would you give to others? 
To F#@k the rules and trends, dress for what you find to be the most visually appealing version of you. That and don't be afraid of colour.
Tell us more about the projects and work that you're involved with. 
Currently I have a few things on the go; there's commercial streets brand me and some collogues are starting. Its about bringing back street style to its punk roots while still maintaining true to the more subdued aesthetics of the 21st century.
There's also my own brand "Mr. Vice" of course, always creating new editorials and spreads to tease the eye, and soon I will be launching the personal styling part of Mr. Vice. So that's exciting.
What are some of your future aspirations? 
Why, to conquer the world of course! All joking aside I would love to be the head director for Vivienne Westwood - that to me is my dream job, right after graduating from CSM head of class of course.
How does your work influence your personal style? 
It makes me push myself and create more Avant-garde pieces instead of conforming.
---