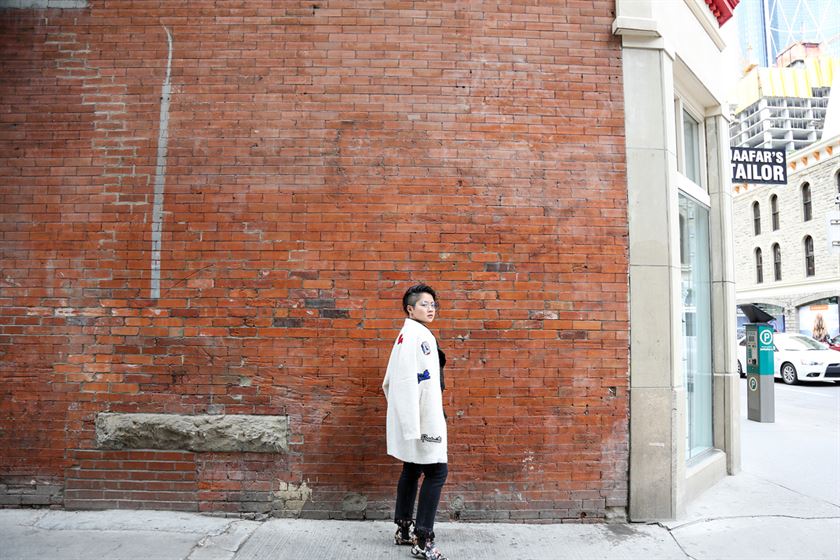 Some people just naturally stand out with their personal style, and that was definitely true of Elle YiFan Xu when I first spotted her at a local fashion show. I could tell right away that she has a love of style and fashion and I wanted to document it without question.
On the day we met up at Deville Coffee shop, she showed up in sleek black, topped off with a patched white jacket, a fur clutch and floral booties that added much personality to that day's rock and roll vibe. Throw in some funky frames and a cool haircut to be Street Style Huntress ready!
How would you describe your personal style? 
I don't usually have a set style but my friends always say that i dress up classy. However, For me, it's more depending on the event I'm attending or the social occasion. I have a big variety of clothing styles and a closet that's about to explode so I feel lucky that no matter where I go, I can always find looks that suits the occasion and beyond .
What are some of your influences when it comes to fashion? 
I would say with me, it's the global fashion trends. I came here from Shanghai where the fashion is multicultural. Funny enough, I grew up listening and watching a lot of North American music and music videos since I was 14 (I was the ONLY person who did that, and the only person who knew about all of the North American singers but not the Asian ones). So at that point, hip-pop music had a huge impact on me. Then slowly I picked my first fashion magazine collection "Self". I started reading that magazine when I was 16, and that was my main source of learning everything about fashion. I'm drawn to editorial and avant-garde fashion for that reason, because "Self-Shanghai" doesn't just focus on the brands and what they are selling in terms of products, but has a specific lifestyle concept.
What are some of your favourite stores and shopping destinations in Downtown Calgary? 
Club Monaco, Aldo, Nine West, Guess, Silla, Simon's.
What are some of your favourite Downtown YYC spots? 
Stephen Avenue.
What are some of your favourite trends right now? 
I love the mixing and matching trend, as well as head-to-toe florals. The newest Gucci runway show, the Asian style patching of drawing and stitching are also at the top of the list!
What fashion advice would you give to others? 
ALWAYS ALWAYS keep yourself updated with the newest fashion shows, learn to read the fashion so you don't just replicate what the designers have already created. After you get to learn a little bit about the style, then just experiment! Trust your gut instinct!
Tell us more about the projects and work that you're involved with. 
I'm involved with Mode Models International. My first fashion film just got selected by Canada International Fashion Film Festival. I'm a fashion photographer myself I got published by a few magazines now: Elegant, Promo, Avenue, Volant, Visionary, Flawless, Dark Beauty, Elle Canada. I'm recently working on my artist biography as I will be a featured artist on "La Mode", a fashion insider magazine in Vancouver.
What are some of your future aspirations?  
To become a fashion designer eventually!
How does your work influence your personal style? 
Being in the fashion industry in Calgary as a fashion photographer really helps me to discover who I am as an individual artist, and what my true potential is and how far I can push myself to go further! I've got many comments over the past 4 years, especially when I first started because no one believed in me! Telling them that it's only been 3 years since I started to really push myself to go into the fashion industry, people often would be impressed and say "WOW, that's so fast!" My practice has certainly been reassuring me that being true to my determination is important— accepting the fact that there are people who are way more established than me; being proud of the fact that I've made this far in 3 years in a city where I really didnt know ANYBODY; most importantly, never stop believing in myself and how far I can push myself to reach!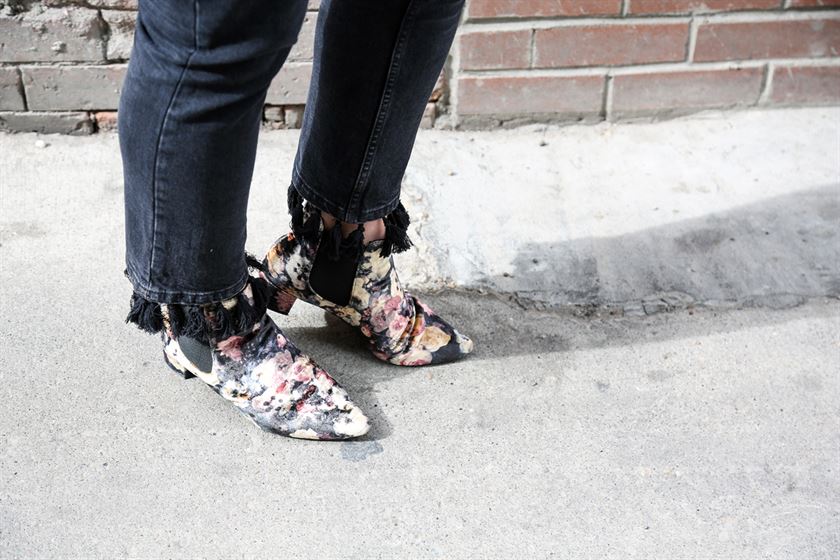 Anything you'd like to add or tell us about? 
My name on my Chinese passport is YiFan Xu. I'm from Shanghai, China. Moved to Calgary 6 years ago because the Alberta College of Art and Design offered me a scholarship. Additionally, I want to tell all the fashion lovers, especially those ones who also moved here from a big city like Shanghai, that never underestimate a city by it's scale even if it's specialty is oil and gas. Why? Because people travel! Just like you and me!
---