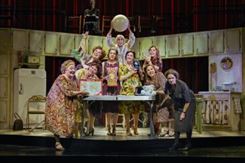 Michel Tremblay's Les Belles Soeurs has been translated into more than 30 languages and presented in over 25 countries. It is the most produced Québecois play and is so popular that the script, written in 1965, was adapted into a musical by René Richard Cyr (book, lyrics and direction) and Daniel Bélanger (composer). Theatre Calgary is presenting the Copa de Oro and Segal Centre for Performing Arts production. Sisters: The Bells Soeurs Musical is a moving, rousing musical, with powerful singing and outstanding acting with just the right douse of over the top fun.
The musical opens to Germaine Lauzon (Gabrielle Jones) talking about how she won a million stamps and how she will get everything in the catalog. The stamps are part of a loyalty program and Germaine was the lucky winner. She proceeds to call her friends, telling them that she won and she's throwing a party, so that they can paste the stamps. There is her daughter Linda (Élise Cormier) who has no intention of staying at home in the evening, she would much rather go out with her boyfriend.
Then the women start arriving, and it's such a large cast it's almost hard to keep track of everyone. Germaine's sister Rose (Stephanie McNamara) comes in with Marie-Ange Broillette (Geneviève St. Louis) who is quite jealous of Germaine's winnings. Lisette De Courval (Hélène Major) shows up and doesn't complain as much about the stairs as everyone else and then all four women launch into the toe-tapping Dull Life. This happens while Germain is getting changed and they move around the stage with plungers and dusters and brooms. It alludes to the life that these women lead.
The cast shows their comedic chops in Claudette's Wedding Day, a song in which Yvette Longpré (Valerie Boyle) talks about her daughter's wedding and specifically how it was a small wedding, but none of the ladies in the community were invited. As the women start pasting the stamps in the books, while Germaine supervises, they get to talking about their luck and their lives.
Des-Neige Verrette (Lili Connor) performs a captivating solo about a salesman who comes to visit her monthly and her song earned standing ovations on opening night. Major also performs a charming solo entiteld Ashamed about how she really appreciates the finer things in life. The musical ends the first half on the musical on a high note with Pierrette is Here where rebel Pierrete (Erica Peck) shows up because she heard about the party.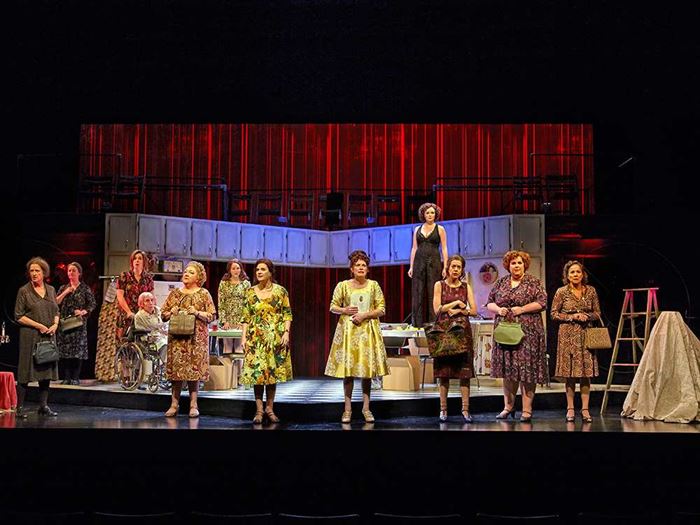 The second half traces the fallout of Pierrete's appearance and we get to explore the community of women and their perception of the club. Pierrete works there, and we learn more about Angéline Sauvé's (Nicola Dawn Brook) relationship with the club and how it ultimately affect her relationship with her friend Rhéauna Bibeau (Marcia Tratt). Adding drastically to the comedy is Olivine Dubuc (Nadia Verrucci) as the mother of Thérèse Dubuc (Sara-Jeanne Hosie). Olivine is in a wheelchair, mostly sleeping throughout the production, but comes alive in the number Ode to Bingo and is so funny whenever she is conscious on stage. The audience gets a glimpse into Rose's life in If Life was a Movie where she sings about not wanting this life, she just got it because she said 'yes' once.
Jean Bard's set design has the stage divided with chairs on top, that presents as offstage and onstage, simultaneously. Mostly the cast sit on chairs, but rise and take the stairs to join the action on the lower stage. It's an interesting take on the concept of waiting in the wings. The set also allows for a band with keyboards and strings on the left and percussion on the right which is a really nice touch.
Sisters: Les Belles Soeurs Musical is a vibrant musical with great songs and stories. It manages to convey the feeling of emptiness and loneliness even when you are surrounded by people throughout the narrative arch.
Theatre Calgary's Sisters: Les Belles Soeurs Musical runs until November 4. More information can be found online.
---