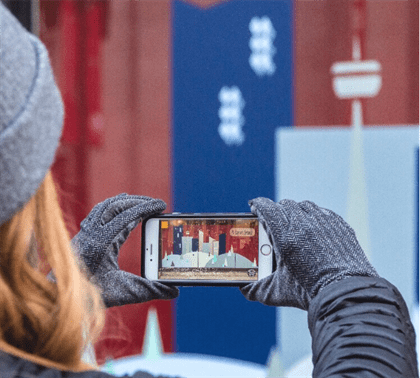 Northern Reflections Window Exhibition: Where Augmented Reality and Art Collide
This winter Calgarians will have the unique opportunity to participate in and engage with an immersive art experience that is nothing like this city has ever seen before. Through a series of painted windows in the Downtown core, viewers will be able to experience winter-time stories as told by Calgarian Artists in the Northern Reflections Window Exhibition, curated by art collective Buds of Buds.
However, unlike any other outdoor art gallery, they're taking the notion of "experience" to an entirely new level. With the use of your smartphone and a simple app, they're combining Augmented Reality (AR) and art to bring you an immersive experience that will display memories, traditions and impressions of this snowy season when you view each painted window. But let's back up a second - this has many of us questioning…
What the heck is Augmented Reality anyway?
You've probably already encountered Augmented Reality (AR) without even realizing it! This explosive technology has already changed the world of online dating, retail, education, navigation, and gaming - think Snapchat filters and Pokémon GO. Unlike Virtual Reality (VR) which transports you to a different world, AR transforms your own personal reality and perspective.  Just as the internet allowed us to communicate in a virtual way that had never been possible before, AR is a completely new medium that allows users to live, engage and experience life on a new level. By simply adding animation to our reality, we have the ability to explore a virtual world in 3D and better yet, interact with it.
Where AR meets Art
According to Apple CEO Tim Cook, "Augmented Reality works by examining, mapping and understanding the real world and then laying virtual objects on top of it." However, when AR intersects with art, it becomes so much more than the layering of images. It brings the artwork to life as it transitions into an immersive experience. AR allows art to be something that we can step into, touch, feel, hear and perhaps someday even smell, as it transforms the reality of the viewer and offers them a way to connect with the piece on a variety of levels.
This avant-garde method of combining creativity with innovation is taking over the contemporary world of art by storm, as it offers an opportunity to extend the narrative in a unique way, encouraging its viewers to continue the conversation in a world that is larger than it initially appears to be.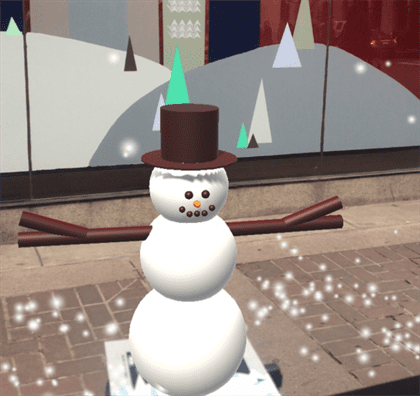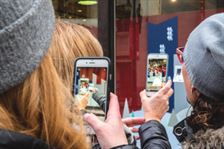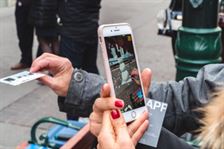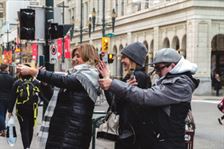 Northern Reflections: making #WindowMagic happen in YYC
With all of this in mind, The Northern Reflections Window Exhibition, presented by Buds of Buds Art Collective and Downtown Calgary, will work to transform our inner city streets into an outdoor urban art gallery that is accessible to anyone simply walking by. Unlike typical art installations, this street art will come to life and encourage Calgarians to become a part of the whimsical holiday scenes that they're viewing and ultimately participate in the art itself through their mobile phones. Come and witness these windows come to life, beginning on December 1, 2021 through to January 1, 2022 and vote for your favourite along the way!
Be sure to check out a sneak-peek of the exhibit at the flagship window by artist Jennifer Jacoby, titled "The First Snow" at 808 1st Street SW. Download the application "Augle", available November 1st in the app store, to get the full AR experience!
There are still a few spots open for local artists and animators who are interested in using their own designs to create a unique holiday window for this exhibition. Learn more about this exciting opportunity here: http://www.budsofbuds.com/artists-designers.html
Follow Buds of Buds on social for a behind-the-scenes look at the windows being created!
Instagram: budsofbuds
Twitter: @budsofbuds
Facebook: @budsobuds
---
Editor's note: This post was written by Kristy Archibald and Jenna Cavanagh of Buds of Buds to promote The Northern Reflections Exhibition starting December 1, 2017. If you would like to promote your Downtown business or event, please email [email protected]
---