Halloween may fall on a Thursday this year, but there's no shortage of fun things to do before, on and after the big day.  Whether you're looking for some family fun to entertain the kids, or want to head out for a night of dress up and debauchery, downtown is the place to be!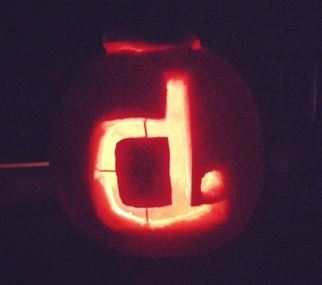 FRIDAY, OCTOBER 25wn Calgary
A Downtown Calgary Ghost Tour
Need something to get you in the Halloween spirit?  Take a tour with Calgary Ghost Tours and explore the ghostly haunts of Downtown Calgary.  Wear comfortable shoes, appropriate clothing and be sure to keep an open mind as they guide you on a journey to explore the "other side" of Calgary.  The tour starts at 6:45pm at the base of the Calgary Tower near the Ruth Chris' entrance. Pre-registration is required.  More details here.
SATURDAY, OCTOBER 26
FAMILY FUN DAY / Art That Goes Bump in the Night
The Art Gallery of Calgary plans to celebrate Halloween and the Mexican Day of the Dead with some "spook-tacular artmaking" in their gallery school from 1:00-4:00 pm on Saturday, October 26th.  Learn how to make feathered bird masks in conjunction with their current exhibition, "Artificial Turf," by Erika Lincoln. All are welcome to attend.  This event is free for gallery visitors.
Winter Wonderland at WEST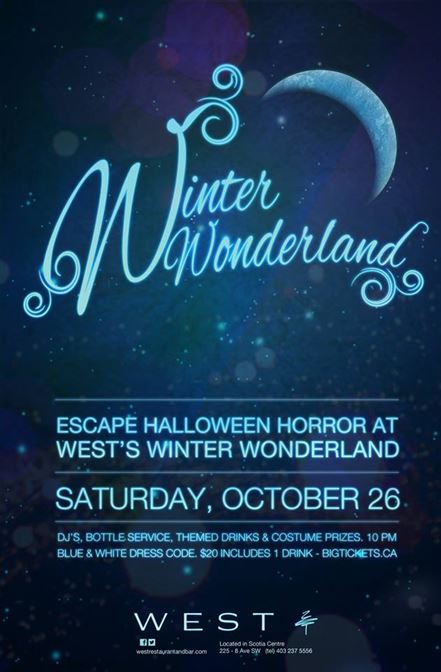 WEST is doing something a little different this year.  Instead of the usual vampires and pop culture costumes, they have opted for a blue and white, glitzy Winter Wonderland theme for their bash on Saturday October 26th.  Anyone attending must wear blue and white attire.  There will be bottle service, two DJs, themed cocktails and prizes.
Wiggle, Giggle, Boo!
Join the gang at Central Library for spooky stories, songs and rhymes on Saturday, October 26th from 11:15-11:45am .  Children ages 2-5 are invited to come in costume with a parent or caregiver.  More details and pre-reg info here.
3rd Annual Halloween Monster Mash at TYN Lounge

TYN Lounge will hold their annual Monster Mash on Saturday, October 26th.  Hosted by Kay L, and music by Maniac Maurice, guests can expect hip hop, RNB, ol skool, and special guests DJ S-Dot, DJ Shyne Time, and DJ Kid Cali.  Cash prizes for the best costume.  Ticket info here.
Thrill Calgary at Eau Claire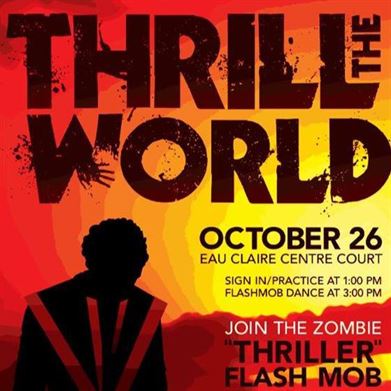 Join hundreds of Calgarians on Saturday, October 26th for a giant "Thriller" flash mob at Eau Claire.  You've heard the song a million times, now it's time to learn the dance and join thousands of dancers in cities across the world, as they sync up with Calgary, and try to set a new world record. The event is free to take part in, or to come watch.  Donations of non-perishable food items will be accepted on-site for the Calgary Inter Faith Food Bank.  More details on the event, including a dance tutorial here.
WEDNESDAY, OCTOBER 30
Babies go Boo!
On Wednesday, October 30th from 10-11:45am, dress up your baby and celebrate Halloween with stories, rhymes and songs at the Central Library. Children ages 6-23 months welcome with a parent or caregiver. More details and pre-reg info here.
THURSDAY, OCTOBER 31
Brewmasters Dinner at The Libertine
It may not be your traditional All Hallow's Eve, but it will definitely be delicious! The Libertine Public House has partnered with the Fernie Brewing Company to host a 4 course dinner with beer pairings on Thursday, October 31.

The delectable menu will include:  Ol' Willy Wit & Seared Digby Scallops, Blood Orange Beurre Blanc, Pomegranate, Dressed Frisee and Micro Greens; Lone Wolf IPA & Lamb 2 ways, Indian Spiced Confit,  Seared Alberta Rack, Lime Cilantro Oil, Oven Dried Tomato; Sap Sucker Maple Porter & Braised Beef Cheeks, Star Anise Spiced Jus, Blackberry, Maple Scented Celeriac Puree, Roasted Cippolini, Brussel Leaves, Beet Chip; Pumpkin Head Brown & Spiced Pear Bread Pudding, 'Burnt' Sugar Gelato.  Tickets are $60.00 and can be purchased here.
The BooB Gala & Fundraiser at The Met

The Metropolitan Grill at TD Square is hosting the BooB Gala & Fundraiser on Thursday, October 31st.  This celebration will donate monies raised to women in need of post mastectomy tattooing. It will be a fantastic evening of live music, live art, a silent photography auction, open ice bar, appies and more.  Tickets can be found here.
FRIDAY, NOVEMBER 1
Palloween V at the Palomino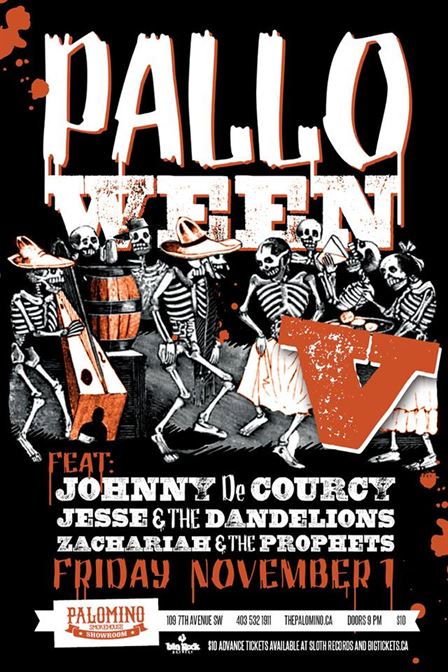 Pop by the Palomino on Friday, November 1st for their 5th annual scary shaker featuring Johnny de Courcy, Jesse & the Dandelions, Zackariah & the Prophets.  More details here.
Whatever it is you get up to, don't forget to plan a safe ride home!
---