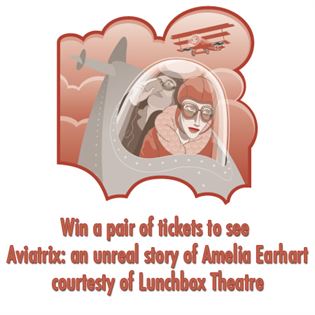 If you've ever wondered what happened to doomed female aviator Amelia Earhart on her final flight, you're not alone. The fateful crash in the late 1930s has a number of theories surrounding it, as Earhart and her plane were never found.
Thankfully, the good people at Lunchbox Theatre have taken upon themselves to stir the pot a little and give a new perspective on what could have happened. This is a world premiere event, written by Canadian playwright Matthew Heiti, directed by Pamela Halstead and starring Chantal Perron and Ty Rive. The play promises to be an exciting look at the life of Earhart, blending fact and fiction in to an unforgettable experience.
The play runs until November 24th at Lunchbox Theatre.
If you'd like to win a pair of tickets please leave a comment on this post with one fact about Amelia Earhart. In the spirit of the play, feel free to use some creative license when providing "facts".
We have 2 pairs of tickets (which we will draw randomly on Wednesday) to the noon-hour showing on Friday, November 9th.
---