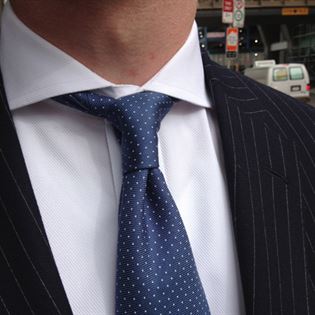 Stick Your Neck Out is a new contest from Downtown Calgary to officially launch our Pinterest page!
Over September we will be photographing and pinning the best in neckwear for men. We're looking for men who are proudly sporting ties, scarves and more around their necks!
Check us out on Pinterest and take part in the fun. All you need to do is like or repin your favourite images and you will be entered to win a bow tie from one of our sponsors. You can also submit your own pictures of extraordinary neck wear by emailing us.
The necktie has long been the cornerstone of men's fashion. It can turn a nice outfit in to an amazing one by adding colour and style to an otherwise plain suit.
Neck wear has come a long way in the past few hundred years, from Shakespeare's frilly ruff, to the cravat, and ascot, to the modern day necktie and bow tie.
The first examples of neck wear were found around the necks of China's famous Terracotta warriors. Being over 2000 years old, they are one of the first examples of decorative fabric being tied around the neck.
Of course, humans have been draping cloth around their necks for warmth much longer than this, but decorative ties are a relatively new thing.
In just the past 60 years, the modern necktie has run the gamut of wide, skinny, bold, and subtle and has taken a firm place in the world of business. In some offices, a suit without a tie is completely unacceptable.
While the modern workplace is much more casual than it was 50 years ago, the tie has remained a fixture in office buildings.
There are a number of shops downtown where you can find striking ties to compliment any outfit:
Contest rules: to enter you must be over the age of 18, and a resident of Alberta. One entry per person. The Calgary Downtown Association reserves the right to cancel, suspend or otherwise halt all proceedings related to the contest for any reason.
---