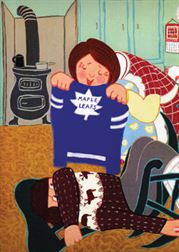 Dig your old hockey jersey out of mothballs and shake the spider webs from your giant foam finger.  It's time to go to the symphony!
On Sunday, September 30, the Calgary Philharmonic Orchestra launches this season's Symphony Sundays for Kids series with a new work celebrating the much-loved Canadian classic story, The Hockey Sweater.  Narrated by the author himself, this adaptation is bound to enthrall peewee hockey players of all ages.  After all, nobody says we were five Maurice Richards taking it away from five other Maurice Richards, quite like Roch Carrier does.  Brought to life with original illustrations from the book, The Hockey Sweater will be conducted by Associate Conductor Mélanie Léonard.
And since this may be the only opportunity you will have all year to sport your Calgary Flames jersey, be sure to come down to the Jack Singer Concert Hall nice and early.  Get up close and personal with your favourite symphonic instrument during the instrument petting zoo at 2:00PM.  Performance begins at 3:00PM.
Adult tickets are $28-$33, with discounts for children and seniors, or with the purchase of five or more tickets.  Available from CPO online or at 403-571-0849.
---