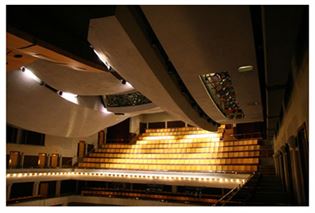 The Jack Singer Concert Hall in the Epcor Centre is a  grand venue.
It includes a gleaming  spruce acoustical canopy suspended above the stage, a million-dollar upgrade to the sound system in 2004, and a gold standard hearing assistance program that makes going to concerts at the Jack Singer a treat for the ears.
Located in the heart of downtown, just a block off the C-train line, the Jack Singer is one of the most accessible luxury concert halls in North America.  Plus there's underground parking.
The Jack Singer Concert Hall boasts a full roster of concerts this fall, and you might just be surprised at the variety of shows that are coming up  in the next week alone:
Get your fire lit as the Calgary Philharmonic Orchestra presents The Doors Symphonic Experience.  A full rock band will be performing with the CPO to bring a rich palette to original Doors material.  Strange days indeed, in a good way.
Friday Oct 5 and Saturday Oct 6
8 pm
tickets: $35-$75
CPO box office online or at  403.571.0849
—
Get inspired as Tom Jackson hosts One Love: A Sacred Music Celebration.   Expect a huge choir, a half dozen awesome female vocalists, and an exploration of music from diverse belief systems around the world.  And feel good about it, because all proceeds go to the Calgary Interfaith Food Bank.  Presented by Calgary 2012.
Sunday Oct 7
7:30 pm
tickets: general admission $7.50
Epcor Centre box office online or at 403.294.9494
—
Make sure you wear your jigging shoes when The Chieftains come to town.  When Ireland's most celebrated pub band takes to the stage in celebration of their 50th anniversary, you know it's going to be a high octane night.  With Calgary's own Tair Na Nog getting the kitchen party started with a pre-show blow-out, you won't even need any green beer.
Tuesday Oct 9
pre-show 6 pm, concert 7 pm
tickets:  $45-$65
Epcor Centre box office online or at 403.294.9494
—
For more information on arts, culture, shopping and dining events going on in downtown Calgary, be sure to visit our Downtown Calgary Events Calendar.
---