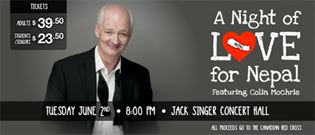 A Night of Love for Nepal is a fundraiser happening at the Jack Singer Concert Hall in Arts Commons on Tuesday, June 2nd 2015.
Raising funds to benefit those affected by the earthquake that devastated Nepal in late April. The event will include some of Calgary's finest entertainers and feature special guest famed improvisor Colin Mochrie.
The show will also feature Revv52, Loose Moose Theatre, Green Fools, That Don Cherry Guy, Hamlet the Clown, Tom Jackson, The Heebee-Jeebees, Micheal Bernard Fitzerald and will be hosted by CBC's Doug Dirks.
Tickets are $20 to $35 and benefit the Red Cross Nepalese Relief Fund.
---