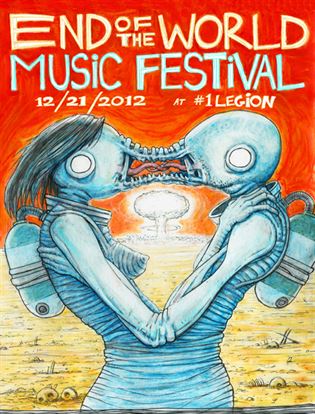 It's the end of the world, at the Legion and we feel fine.
Just in case the Mayans were right (and since December 21 falls on a Friday anyway), why not spend the final night of the world ringing in the rapture?  The Royal Canadian Legion #1 will be ground zero for The End of the World Music Festival, a one-night musical blow-out that brings together an earth-shattering line-up of musicians  on four stages, all playing like it's their last gig on earth.
Supported by a Calgary 2012 gigyyc grant, the EOTW Music Festival is the brainchild of apocalyptic visionary and alien overlord greeter, Kenna Burima.  Not one to sip purple Kool-Aid alone in her basement, Burima has handpicked fifteen of Calgary's finest musicians, including Pack of Strangers, Von Zippers and Sweet Cop/Sour Cop, to usher in the new world order.  A  zombie army of local visual and performance artists will transform the venerable legion into an environment more hospitable to our robot conquerors.  You can even opt to go out in style, by booking a VIP table for you and five friends in the Apocalypse Piano Bar, which comes complete with Maitre'd service.
So forget about that stockpile of Spaghettios and bottled water in your basement.  Get gussied up in your finest Jonestown attire and bring someone with whom you don't mind ending it all down to the #1 Legion.
End of the World Music Festival
Friday, December 21, 2021
#1 Legion 116 7 Ave SE
doors at 7:00 pm / programming begins at 7:20 pm
18+ event
tix:  early bird - $20, VIP table for 6 - $250
(available online at endoftheworldyyc.com)
door - $25
---