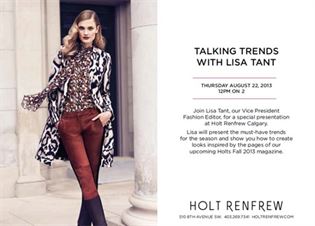 Stumped on what's next for style this fall? You won't want to miss this fabulous event at Holt Renfrew! Featuring the Vice President Fashion Editor, Lisa Tant alongside some of the hottest trends she is seeing for the upcoming cool season, you'll discover all of the key pieces that you'll need to stock up on for the fall.
Formerly the editor of FLARE magazine, Lisa Tant is an expert of style and fashion. Bringing her extensive editorial experience to Holts, she handpicks exciting new designers, classic staples and stunning trends. Her presentations are always an enthralling look at the fashion season ahead.
The event also celebrates the launch of the Holts Fall 2013 Magazine, flipping through its pages will be super inspiring as you navigate the racks and figure out what style direction you will go in this fall. A perfect way to spend your lunch hour, you'll leave feeling a little bit more excited about those leaves turning colour over the next couple of weeks.
The details:
Thursday August 22 at 12 pm
Holt Renfrew, 2nd Floor
Arrive and prepare yourself for an informative and exciting presentation of Fall 2013's style trends!
---