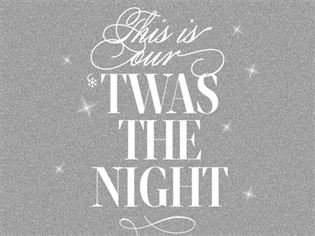 Every year the holiday season seems to sneak up faster and I seem to always be rushing around at the last minute to get my holiday shopping done.
This upcoming holiday season I'm going to get all of my shopping completed in one evening by attending Calgary's FREE premiere holiday shopping event; 'Twas the Night. The evening will help benefit Alberta Children's Hospital Foundation, Alzheimer Society of Calgary, National Music Centre, Pet Access League Society (PALS) and the United Way - BeCause Initiative
Join me at the CORE on Wednesday, November 27, 2021 from 6:30pm - 10:00pm for a holiday event like no other.
Get all of your holiday shopping done in one night with exclusive one-night-only retailer offers while you enjoy a one-of-a-kind performance from Juno award-winning artist Jann Arden and her 3-piece band and Downtown Calgary will present the red carpet with celebrity host Dan Levy (comedian and former MTV host)
You can be part of Calgary's newest holiday tradition, the lighting of the CORE's spectacular 45-foot Christmas tree and inspire your gift giving ideas presented by CORE stylists Brenna Hardy and Phaedra Godchild in the Styleista lounge.
While you are shopping or after you have finished treat yourself and savor delicacies at sampling stations presented by downtown restaurants and enjoy the FREE downtown parking. I know I will!
This year Calgarians have enjoyed a year of celebrations and 'Twas the Night will be the grand finale.
I can't wait to join thousands of Calgarians from across the city will celebrate the holiday season, and support five local charities championing the revitalization of the City of Calgary. Suggested donation is minimum $15 - donations will also be accepted at the door.
The CORE will also help 50 Calgary families affected by the Alberta floods have a happy Christmas by giving away $10,000 in CORE gift cards. To nominate a family, please visit country105.com and help bring some holiday magic to those most in need this season.
To RSVP, please visit http://www.twasthenight2013.eventbrite.ca
I hope to see you there.
Matt
This has been a guest post by Matthew Ryan on behalf of the Hyatt Regency in Downtown Calgary. If you would like to write a blog post about your downtown business, contact [email protected] for more information.
---