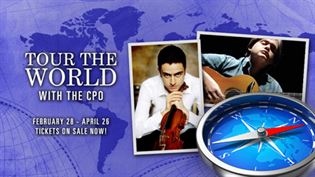 Did you know you can travel to Russia, Germany, Hungary, Cape Breton and Brazil without leaving Calgary? Forgo that gross airplane food and join the Calgary Philharmonic Orchestra as it launches its "Tour the World" travel series, featuring music from four different regions.
The journey starts February 28 & March 1, when audiences are taken to Russia and Germany with Tchaikovsky and Brahms, featuring acclaimed Russian violinist Eugene Ugorski. This is followed by a musical trip to Hungary on March 7 & 8 with Hungarian Rhapsody, and then it's off to Cape Breton for a foot-stomping good time at Celtic Celebration with The Barra MacNeils on March 14 & 15. The journey wraps up south of the border on April 25 & 26 with Guitar Sensation! Brazil's Yamandu Costa.

We caught up with CPO Resident Conductor Adam Johnson, who explained more about what Calgarians will experience in "Tour the World."
"Experiencing different cultures is what makes traveling so interesting, and at the core of every culture is music," Johnson says. "The CPO is bringing the best music from around the world to Calgary in must-hear concerts; the audience will experience awe and beauty in these exciting international performances."
Click here to pick up your boarding passes, or take your chances in our twitter contest!
Tweet this phrase "Hey @downtowncalgary I'm touring the world with @calgaryphil" and enter to win a pair of tickets to the Hungarian Rhapsody concert on Friday, March 7. We'll select the winner on Wednesday, March 5.
Bon Voyage!
---