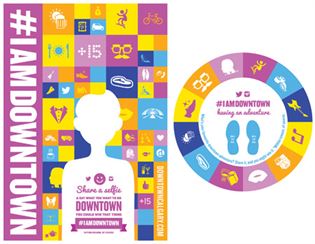 In 2013 we launched #IAMDOWNTOWN with a Stephen Avenue block party and a take-over of the 69th street West LRT station.
We covered the entire station with reasons to come downtown, reminding riders that the West LRT is a fast and easy way to get downtown. This year we're going North, taking over Crowfoot Station and we couldn't be more excited!
We've given #IAMDOWNTOWN a make-over for 2014 and with that comes a new contest.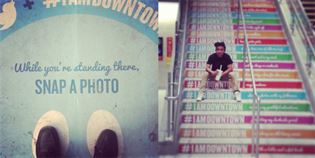 Last year we asked you to share your #IAMDOWNTOWN moments as they were happening, and we got some great submissions. This year, we want you to be aspirational! We want YOU to pick the prize this year!
So when you're at Crowfoot station this summer (Starting April 21st), snap a selfie on Twitter or Instagram and caption it with your fantasy downtown adventure and we'll (try) to make it a reality.
Want to eat until you burst at CHARCUT? Want to shop until you drop at Holt Renfrew? Want to have a private screening of your favourite film at the Globe?
Snap that selfie either in front or on top of one of the spots shown above, and let us know what you'd like to do downtown with the hashtag #IAMDOWNTOWN and we'll select one image each week to win $100 gift card to help make their dream a reality.
At the end of the summer, we'll choose our favourite photo and award the winner $1,000 worth of gift cards and other prizes.
The goal is to make your perfect downtown adventure a reality, but with that said your request must be reasonable. We can't let you take the Wonderland sculpture home, and we won't be asking Nenshi to appoint you Supreme Ruler of The CORE.
So swing for the fences and share your perfect downtown adventure. Even if we can't make it a reality, we'll try our hardest to give you the next best thing.
Full contest Terms/Conditions are available here.
---