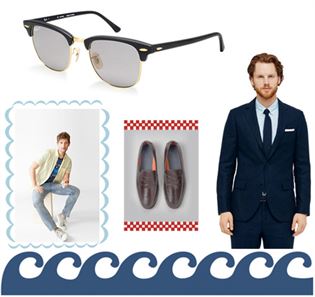 Now that Stampede season is behind us, and the summer is heating up it can be difficult to balance fashion and comfort while the Calgary weather toggles between scorching hot days, and thunderstorms at night. Showing up at the office, or to meet a client in the over-sized polo shirt you mowed your lawn in, might keep you cool but is definitely a fashion faux-pas. Luckily we have guest blogger Christian, who will share some sartorial tips for the fashion conscious downtown gentleman:
The number one fabric to wear during the hot climate is linen, so make sure to wear lots of it. Linen is available in shirts, pants, knitwear, and my personal favourite: suits. The lightweight fabric allows you to look office appropriate without being drenched in your own perspiration. Just make sure to stick with darker and more conservative colours to show people you still mean business.
Even when it's overcast, the sun is going to get in your eyes, so sunglasses are going to be very important. Clubmasters, wayfarers, and aviators are the three most popular frames options for men. I believe they are all wardrobe staples that will never go out of style and will continue to protect our vision for many years to come.
Lastly, go sockless. Please. I love a pair of penny loafers or low-top canvas sneakers in the summer, but I can't stand seeing a pair of cheap athletic socks bunched together on the top. Keeping the socks at home not only looks better, but provides more breathability to your feet. If you feel uncomfortable, just simply get some low-rise 'no show' socks to apply the same effect.
These are just a few of the many options men have to look stylish during the sunny days. I know as a guy it can be difficult to want to put something together in the morning, but it doesn't take much effort to look more presentable. Don't be the dude that walks out of his brand new Audi in a fleece sweatsuit. You may feel comfortable, but your girlfriend may prefer to stay in the passenger seat.
Links to items:
Clubmaster Sunglasses, Ray-Ban
Cole Haan Penny Loafers, Henry Singer
All shops located in Downtown Calgary!
This has been a guest post by contributor Christian Ladores, if you would like to submit a guest post to Getdown.ca please email [email protected]
---