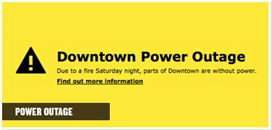 Due to a utility fire on October 11th, 2014 there is an ongoing power outage in the Downtown West End of Calgary.
Crews are working to restore power as soon as possible. In the mean time, the City of Calgary has set up an info centre for residents at the Mewata Armoury (801 11 St. SW) Note that you will need to provide proof of residence to register at the Centre.
Contemporary Calgary is proud to announce its Fall season, with concurrent exhibitions featuring Toronto-based Kim Dorland at both of its centrally located venues: in the role of artist at C (117 8th Avenue SW), where we open Homecoming, a solo retrospective exhibition featuring highlights of Dorland's career as a painter over the last ten years, and in the role of curator at C2 (Suite 104 – 800 Macleod Trail SE), where Dorland has selected the work of fourteen local artists for an exhibition titled Voted Most Likely.
The exhibitions run from October 16th 2014 to January 18th, 2015 with the opening reception on Oct. 16th, 2015.
Come downtown from October 14-19, 2014, for the 19th annual Wordfest in downtown Calgary. Wordfest features upwards of 85 writers from the local, national and international stage at more than 65 events.

A new political thriller from the winner of the 2013 Governor General's Award for Drama.
Who is the Butcher? At a police station a mysterious old man is found wearing a foreign military uniform and a Santa hat, with a meat hook dangling around his neck. As a lawyer, a police officer, and a translator struggle to unravel the truth, they uncover a past that won't stay buried, and a decades-old quest for justice that must be served. Haunted by events a world away, no one is who they seem to be.

Learn more about Bow Valley College programs and services. Chat with faculty and staff and learn more about our career, upgrading, and ESL programs.
---