When the cold weather starts to creep in like this all I want to do is eat my feelings. This month they taste like mac & cheese, so if you're gluten or dairy free, you'll probably want to stop reading right now (sorry!) If you're a cheese and pasta addict like me, proceed.
While my mom makes an incredible mac & cheese from scratch, Kraft Dinner was still a staple at our household growing up. When we were little, we used to fight over who got to lick the cheese dust off the flavour package (hanging head in shame).  KD's got nothing on these decadent offerings….
The Grizzly gouda mac & cheese at Blink has been one of my personal favourites for a long time. It is delicious and I love the texture that the almond & herb crumble adds.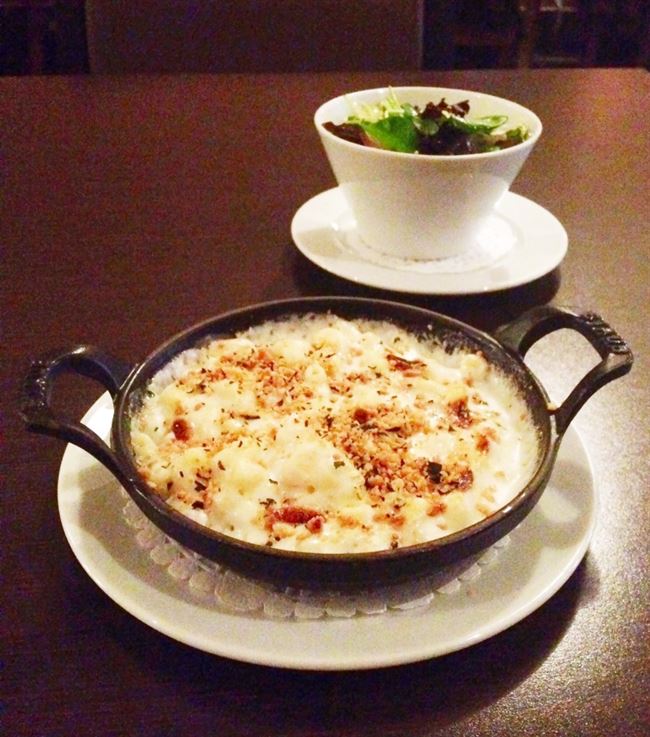 It also comes with a mixed leaf salad, which is nice because when you're sampling mac & cheese almost daily for a couple of weeks it's nice to have something with a little more nutritional value. The service I've received there has always been excellent too.
On a side note, they have an unusually large and beautiful washroom, with lovely hand products. It's like a mini spa break.
White cheddar, smoked cheddar, and blue cheese are all mixed into this delicious mac & cheese. I tried this once before and wasn't wowed, but after having it again recently I think I may have just had a bad batch before. You can add pulled pork, brisket, chicken or double smoked bacon for a small fee if you'd like to add some protein.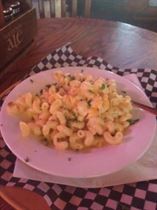 Call me a purist, but I've never been a fan of  ketchup on mac & cheese, but at the Palomino they have some pretty awesome in-house sauces, so I dabbled a little in those. My favourite was the BBQ, but I really liked the apple cider vinaigrette too. I know it sounds weird to add that to mac & cheese, but I just did a small dash to try it and it was really good. On a side note, the Palomino's Caesars are extremely delicious.
While the Trib may be known for steak, they have a surprisingly decadent mac & cheese option on their lunch menu. The Lobster Mac & Cheese is made with Atlantic lobster meat and Gruyere cheese. If you love seafood, it's worth a try.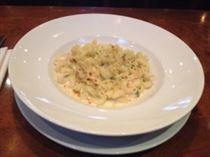 On a side note, they also have a "Classic Martini Hour" from 4:00-7:00pm daily, with buck a shuck oysters (chef's choice). I popped in recently after work for a martini and some oysters, and they were so lovely and fresh, and came with a refreshing cucumber mignonette.
This is a place I have walked by so many times over the years and never stepped foot in. I'm so happy I did, because their Baked Mac & Cheese is my new favourite! It's a wonderful blend of roasted jalapenos, six types of cheese, and Parmesan gratin. I added the braised bbq beef short rib for a small fee, and I've got to say, it was awesome!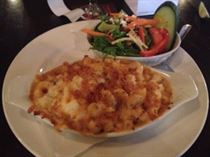 I don't normally like to add meat to mac & cheese, but this really enhanced the flavor and I can't wait to go back and have this again! It also came with a lovely salad of artisan greens.
The Belfry's Stovetop Chorizo Mac & Cheese was a nice twist on the original. Creamy cheese sauce, smoked chorizo, with a house made ketchup and cheddar crisp on top.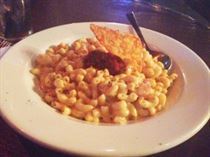 It was nice having a number of different textures and flavours to break up the creaminess.
Blue Vinny Diner
The Blue Vinny on Stephen Avenue has a pretty standard version of mac & cheese.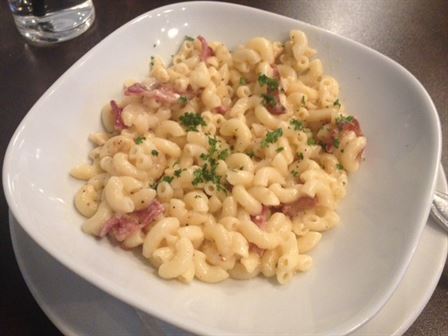 It came with bacon mixed in, good flavor and reasonably priced, but didn't wow me.  I added some hot sauce to kick it up a notch, which worked well.
This was a unique version that contained shredded ham hock, peas, mornay sauce, topped with a black truffle crumb. It was very tasty, but quite salty. I love salty, so that wasn't an issue for me, but may be for some.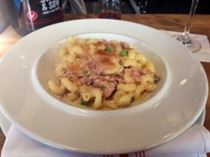 Also thought the peas were a nice addition. Once again, having a veggie there somehow made me feel less guilty about this indulgence. Denial is a beautiful thing. Their lunch hour rush is pretty intense, so make a reso to avoid being disappointed.
The Unicorn's always reliable for good food at reasonable prices. One of the options on the "Unicorn Favorites" list is their mac & cheese.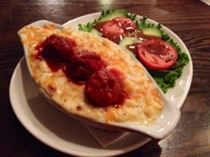 It's a house made cheddar cheese cream sauce, topped with three cheeses, and a light dusting of herbed panko crumbs.  I added the spicy Italian meatballs for $3.00. It was very tasty, but if I had it again I think I'd go without the meatballs.
One of the specialties at this Maritime-inspired pub is the lobster mac.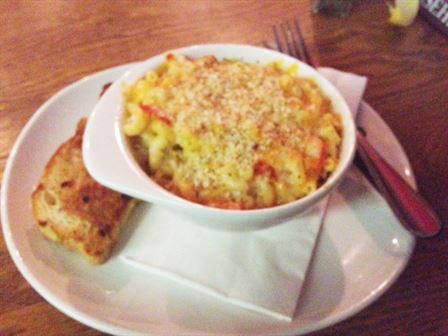 Creamy seafood cheese sauce, fresh herbs, and panko topping, with a yummy slice of garlic toast on the side for dipping.
Ceili's has a great version that combines parmesan, aged cheddar, mozzarella, gruyere, and double smoked bacon. There were a few add-on options, so I chose to add jalapenos, but could have also had mushrooms, and a few others.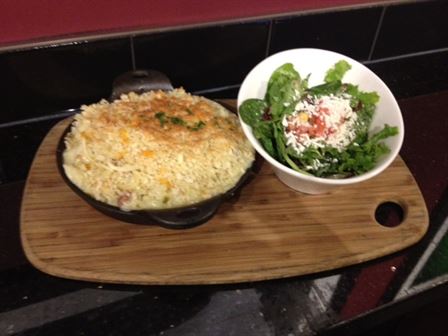 It also came with a Ceili's house salad, which was great. Despite the crazy lunch hour rush, the service was very quick and friendly.
National's macaroni & cheese dish is done with a mornay sauce, topped with bread crumbs and baked. You also have the option to add beef short rib & oxtail ragu. I chose not to add anything this time, but I'm curious to try this oxtail ragu!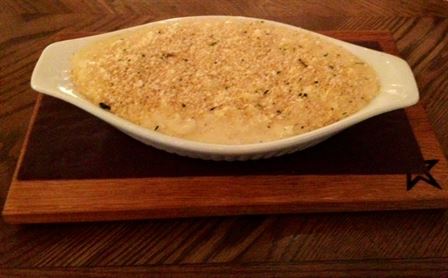 This dish was incredibly creamy, which I quite enjoyed because I'm a sauce girl.
I really enjoyed the flavour of the Jalapeno Mac & Cheese at OJ's. A delightful blend of chopped jalapeno peppers, a several cheeses and fresh cream, topped with a toasted parmesan panko bread crumb topping. It has a great kick to it without being overpowering. If you're so inclined, you can jazz it up even further with cajun chicken, chorizo sausage, or chopped bacon for an additional fee.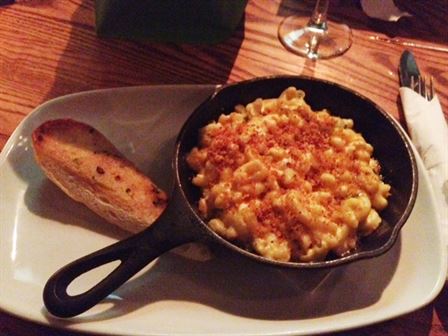 This mac & cheese is also available at their sister restaurant, State & Main. Sadly, this is a dinner only menu option at both restos.
I'm sure there are more out there, but I new it was time to stop when I could barely button up my work pants. Look for my next post, which will likely be on workouts to lose your mac and cheese belly.
Word to the wise: Due to the fact that many menus change seasonally, you may want to call ahead to avoid disappointment. Please note that all of these meals were taken over the lunch hour (except Original Joe's), and may or may not be available for dinner.
If you love food as much as me, you'll want to mark your calendar early for The Big Taste, Calgary's Annual Dining Festival, which is coming up on March 6-15, 2015.
---