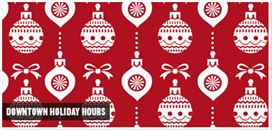 Happy holidays to all our downtown friends and followers.
Still have some last minute shopping to do? Find out the holiday shopping hours for the CORE Shopping Centre, Banker's Hall and more on Stephen Avenue.

Join Thomsons for an unforgettable traditional feast featuring an extensive display of items the highlight the best of the holiday season. Adults $78 per person, Kids 5-12 $29, kids under 5 eat free.

Bring your skates and glide along at the outdoor oasis we know as Olympic Plaza. Skating is free and open to the public from 10am to 9pm with occasional surface cleanings to keep things running smoothly.

Downtown Calgary is your spot for an amazing New Year's Eve. See our post with a number of great events, and see our events calendar for even more happening in Downtown Calgary on New Year's Eve.
---