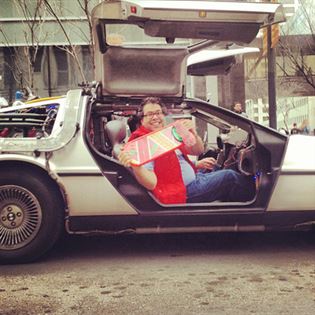 Last year, in conjunction with the Calgary Comic & Entertainment Expo the Downtown Calgary Association helped present the POW! Parade of Wonders. This year we're just as excited to bring cosplay to the streets of downtown Calgary on April 25th, 2014.
Since 2013 was such a success, we're upping the ante! For those with small children, you'll want to check out the Downtown Calgary POW! Parade Family Experience. This event has been specially designed for families with young children to allow them to march in the POW! Parade even if they aren't attending the Calgary Expo.
The Family Experience will feature access to a special family registration/waiting area with games, activities, change rooms and snacks inside Eau Claire market. Register your entire family today, as space is limited. The deadline to register is April 21st.
If you aren't bringing any children, you can register on the Calgary Expo website.
A reminder to all participants, you will need to sign in on the day of the event, no later than 10:15am on April 25th. You will also need to complete and sign a liability waiver (pdf link) in order to participate.
For more information on the POW! Parade of Wonders please see our website.
---