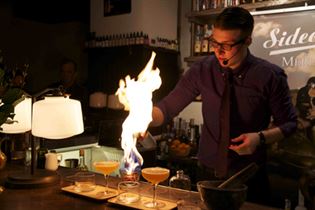 Get inspired to dust off that old brass bar cart in your garage and stock it full of the essentials for a summer season full of bespoke cocktails. The Art of the Cocktail arrives in Calgary on the first weekend of May and brings with it an amazing selection of cocktail-related events.
This two day celebration of the cocktail movement kicks off with the Grand Tasting on May 2nd at the University of Calgary Downtown Campus. Touted as 'Gin, Bourbon, Rye - oh my!', this evening of tasting is a great introduction to the weekend's events and an excellent way to source out new brands to try at home. You'll get to sample all sorts of spirits and beverages - treats and tastes from restaurants, bars, distilleries and even big and small brands. Hook yourself up with a VIP ticket for only $60 (+GST) and get access to the tasting for a whole hour before the general admission ticket-holders are allowed in. Don't worry about tokens - you can sample and taste away without them. If you are just interested in checking out the Grand Tasting and aren't looking for the VIP treatment, purchase a regular ticket for $40 (+GST) and get your cocktail on.
The second day of The Art of the Cocktail is jam-packed with seminars and the much-anticipated Merlet Competition. This year's seminars promise to be a fantastic treat for avid and aspiring home bartenders. The day starts with Creating Your Home Bar with Jesse Willis. You'll learn everything you need to know about stocking up on home bar essentials so you'll be ready to whip a tasty cocktail at the drop of a hat. You'll also learn about what kind of equipment you'll need to have on hand that every bartender swears by.
Enjoy creating your own one-of-a-kind cocktails at the Bespoke Cocktails seminar with Midnight Rambler's Chad Solomon. Discover how you can pair flavours together to create pleasing and delicious concoctions. Time to get experimental!
The last seminar of the day initiates you into the world of brown spirits - Bourbon, Rye, The Whiskeys - Oh My! Learn all about the taste profiles of these delightful spirits and what kind of cocktails work best for each one.
Bottoms up!
---