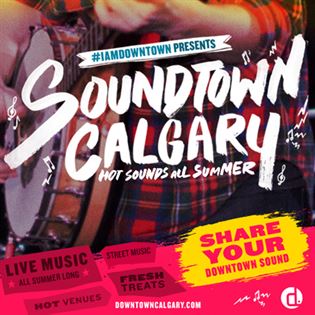 Downtown Calgary, also known as Soundtown Calgary, has been striving to make Stephen Avenue a destination for entertainment. Starting June, Downtown Calgary brings you entertainment Tuesdays through Fridays at noon on the Stephen Avenue Summer Stage. There will also be performances on certain Saturdays and Sundays.
Bring your lunch for these FREE noon hour performances from bands, dance troupes, DJs and even comedians! (Weather Dependent) We have months of stellar entertainment lined up so spread the word. We even have chairs for you. Yes! So sit, eat, listen, and dance if you feel like it. Ultimately though, come on down and be entertained for FREE. Each show will start at 12:00 PM and finish at 1:00 PM.
Look for the stage most weeks outside the Telus Convention Centre between Centre Street and 1st Street on 8th avenue SE.
Check back and sign up for our events newsletter for information on future week's entertainment.
Monday, June 8th will feature 4-piece band, Mercury Audio. They play both originals and classic oldies with an energetic, rockabilly flair. Plus they blend in a touch of blues, honky-tonk, rock n' roll and country. These talented guys are taking Alberta by storm one barnyard at a time. The music that Mercury Audio delivers will make you want to dance like no one's watching.
Tuesday, June 9th brings to the stage the sounds Mariel Buckley. What sounds you ask? Calling on influences from Loretta Lynn to Bruce Springsteen, Mariel's songs combine a rootsy, country and alternative sound. Her originals are honest and catchy, touching on human nature and telling stories of her own life experiences.
Wednesday, June 10th welcomes the first Pop-Up Picnic of 2015, an outdoor lunchtime event. The theme this week will be jazz and features a performance by jazz quartet, The Bow Djangos, also known as Calgary's gypsy jazz ambassadors. Enjoy the music while you play classic outdoor games (bigger and better than the ones I used to play) like Giant Jenga and Chess.
Thursday, June 11th introduces quintet, Brass Act to the Downtown Calgary Summer Stage. Brass Act is a class act, and like the band's name suggests, this musical ensemble will consist entirely of brass instruments, all played by seasoned musicians. Expect a large range of sounds and styles covering the lineage of Jazz.
Friday, June 12th invites you to experience Daughters of the Nile, a Middle Eastern Dance Academy and Performance Troupe based in Calgary. They primarily perform Raks El Sharki Fusion, which is a mixture of North American and Middle Eastern belly dance styles. This troupe adds a modern flair to the art of belly dancing. As well, they perform Folkloric pieces which are both informative and entertaining. Daughters of the Nile are available for a variety of engagements including private & weekly classes, performances and corporate functions.
So there it is, and we have months of weekly performances to go. So grab a dance partner, or just grab your lunch, and check out the FREE shows on the summer stage. We want to see you there! Check in for next week's line up of top-quality entertainment. Brought to you by Downtown Calgary.
Stay Gold,
Shannon Shade
This has been a guest post by Shannon Shade. She's a local singer and entertainer who works with Entertainment Coordinator Kevin Shredder to promote the #IAMDOWNTOWN Summer Stage.
---