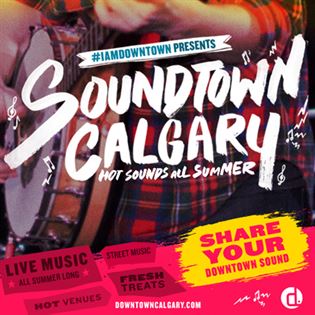 Downtown Calgary, proudly known as SOUNDTOWN CALGARY, brings to you the third week of FREE entertainment on the Stephen Avenue Summer Stage. Each Tuesday through Friday there will be FREE noon hour performances from an array of bands, dance troupes, DJ's and even comedians.
Occasionally, there will be special performances on Mondays, Saturdays and Sundays. (Weather-Dependent).  Each show will start at 12:00 PM and finish at 1:00 PM.  We invite you to bring your lunch, take a seat near the stage and CONNECT with the CULTURE of SOUNDTOWN CALGARY. While you're at it, be sure to enter our Soundtown Calgary contest.
Here is this week's lineup of entertainment that will be bringing audiences and artists together on the Stephen Avenue Summer Stage:
Tuesday, June 23rd features House of Cane Sax Quartet. This group is led by educator, bandleader and worldwide performer, Mark Dejong. Experience a large range and variety of tone with this musical ensemble consisting of all saxophones. Enjoy the musical styles of swing, blues and jazz as it's played by seasoned musicians.
Wednesday, June 24th brings to the stage Neil Gunhold's Shadow Government. They are a poetic, power pop group from Calgary. Some songs contain a blast of jazz and funk. Their influences range from The Who to The Beach Boys, from The Beatles to Prince. Be prepared for an exciting and eclectic live show.
Friday June 26th welcomes ONCUE, a division of the Youth Singers of Calgary. ONCUE have been performing to critical acclaim and to audiences worldwide since 1997. Featuring 10 dynamic voices, ONCUE covers everything from original songs to folk, from classic rock to the latest pop. You've heard choirs before, but not like this. Treat yourself to the unique opportunity of hearing Calgary's premiere vocal group in action.
YOU ARE OFFICIALLY INVITED to all of these shows. We look forward to seeing you there! Look for the stage most weeks outside the Telus Convention Centre between Centre Street and 1st Street on 8th Avenue SE. Check in for next week's lineup of fun and family friendly noon hour performances. FREE to the public. Entertainment on the Stephen Avenue Summer Stage is brought to you by Downtown Calgary.
Stay Gold,
This has been a guest post by Shannon Shade. She's a local singer and entertainer who works with Entertainment Coordinator Kevin Shredder to promote the #IAMDOWNTOWN Summer Stage.
---