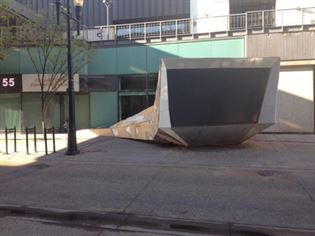 When Calgary is characterized in the media, "young", "dynamic", and "forward looking" are often the terms used to describe our city. This week, during the Festival of Architecture put on by the Royal Architectural Institute of Canada (RAIC), the theme of youth and our city's future is being explored and celebrated right downtown!
Beginning in the evening of Wednesday June 3, a public exhibition entitled Future Voice: Situating Architecture will be projected from a specially commissioned pavilion sited on Stephen Avenue Mall directly adjacent to the Glenbow Museum. Here, you can take in the designs of 12 young architecture firms from across Canada that are imagining the future of Calgary in the year 2040!
The 12 firms, that come from cities as far flung as Halifax and Vancouver, and that also include 4 young firms from Calgary, were challenged to anticipate how our city will evolve over the course of 25 years. The results are provocative and diverse!
The design and construction of the pavilion also reflects the theme of youth. Designed by two young professors from the Faculty of Environmental Design, Jason Johnson and Josh Taron, and constructed by a team of architecture students, the pavilion is an exuberant sculpture that glows at night and features a large screen from which the public can appreciate the designs created by the Future Voice architects. The viewing is open to the public and runs 24/7 June 3 to the end of June 6, so come by and find out what will be happening to Calgary in the not-so-distant future!
Editor's Note: This has been a guest post by Marc Boutin about the RAIC Festival Pavilion. Boutin is an architect in Calgary, you can learn more about him on his website.
---