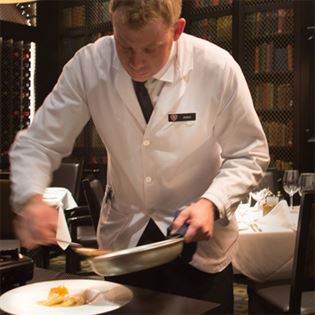 There is a new way to dine out in Calgary and it is only available at Hy's Steakhouse! The Tableside Chef Experience is a one-of-a-kind dining experience in which an entire three-course meal is prepared in front of you by one of Hy's incredibly talented chefs.
Watch and be amazed as their signature dishes materialize before you along with full wine pairings, if you so choose. This is an amazing way for foodies to spend a nice evening out with friends and to chat with an experienced and talented chef - all while you eat amazing food.
Want to get in on the chef-side action? Here is the full scoop: the dinner costs $92.00 per person (excluding GST or gratuity) and a minimum of four guests is necessary for the experience - perfect for a double date or night out with the girls! This experience is only available for dinner and comes with a set menu in which you get to choose and personalize your meal.
As many of the items involve flambéing, the Hy's tableside experience is quite the show so prepare to be amazed by the chef's skills! Curious as to what the menu entails? I have the full menu posted below so you know what to expect. If you are like me, you'll have your whole meal planned out ahead of time so you can spend the whole meal in awe (and maybe snapchatting the experience!). 
Hy's Tableside Series Menu
Hy's Cheese Toast

famously irresistible since 1955 

Caesar Salad

a Hy's tradition

or

Spinach Salad

with mushroom, onion, bacon, hard cooked egg

Hy's vinaigrette dressing

-

Chateaubriand

Filet Mignon grilled and presented with vegetables,

Béarnaise sauce and red wine jus

or

Steak Diane

Medallions of beef flambéed with brandy,

Dijon mustard and fresh mushrooms

-

Bananas Foster

Bananas sautéed with butter, brown sugar and fresh orange juice,

flambéed with dark rum and served with vanilla ice cream

or

Cherries Jubilee

Bing cherries sautéed with butter, brown sugar and flambéed with Grand Marnier

Flaming Spanish or Classic Irish coffee
This slideshow requires JavaScript.
---