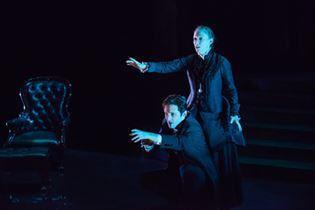 Myla Southward & Braden Griffiths in Vertigo Theatre's The Turn of The Screw. Photo by Benjamin Laird Arts & Photo
Jeffery Hatcher's The Turn of the Screw, presented by Vertigo Theatre and directed by Ron Jenkins is a ghost story that blurs the lines. It manages to be both fascinating and creepy at the same time. Thrown in innovative staging and some talent and you have an interesting night at the theatre.
The play tells of a young attractive governess (Myla Southward) who takes a job taking care of two children in a lonely mansion in the country. She meets the young boy Miles (Braden Griffiths) and his sister Flora and the Mrs. Grose the housekeeper (also played by Griffiths). But as she stays in the house, the governess starts to see ghosts. She describes these figures to Mrs. Grose who says that it's the governess' predecessor, Miss Jessel who died earlier. And then things start to unravel for the governess.
Southward and Griffiths work so hard in this play. The stage is flooded by water and the cast is always in a state of damp. Whether Griffiths is on his knees as Miles or if he and Southward are being dumped on with water in a storm. They are strong and dynamic. Set on a mostly dark stage, lighting design by Narda McCarroll that punctuates the horror and suspense, the narrative is told in shadows and light.
Ron Jenkins has Griffiths bring out the evil and sinister nature of Niles. It gives the entire play an edge. And it's both Griffiths and Southward and the entire design team that makes The Turn of the Screw a bit more compelling than the narrative deserves. The audience wants to know what happened, amongst the riddles and darkness, but the style of storytelling is a bit soft. The suspense is a little muted though Jenkins and Southward and Griffiths use all their talent to build to the climax.
Vertigo Theatre's production of Jeffery Hatcher's The Turn of the Screw runs until April 10th. More information is available online.
Photo Credit: Benjamin Laird Arts & Photos
---